Tactile and Braille Route Identification Signage Trial
TTC is seeking feedback on the content, materials, and overall usefulness of these signs. Please email your comments to Accessibility@ttc.ca.
TTC is seeking feedback on a trial of new raised tactile and Braille route information signs at several closely spaced transit stops around the city. The purpose of these signs is to assist people with low or no vision to locate and wait at the appropriate transit stop in locations where there are two transit stop poles within close proximity of each other (around a bus length apart) along a particular block. The addition of these signs will help to distinguish which routes board at the individual stops, combined with the verification of external stop announcements.
The signs are mounted on a red "infopost" frame, located underneath the transit stop marker on the stop pole. The top of the tactile and Braille signs is approximately 1,500 mm high (see image below). They utilize a combination of tactile numbers and letters, and corresponding Grade 1 Braille text. The upper portion of the panel consists of a tactile outline around a radius module that encapsulates an individual route number and the direction of travel. Where a stop serves more than one route, there are additional modules. The bottom portion of the panel has information pertaining to the stop number, for reference.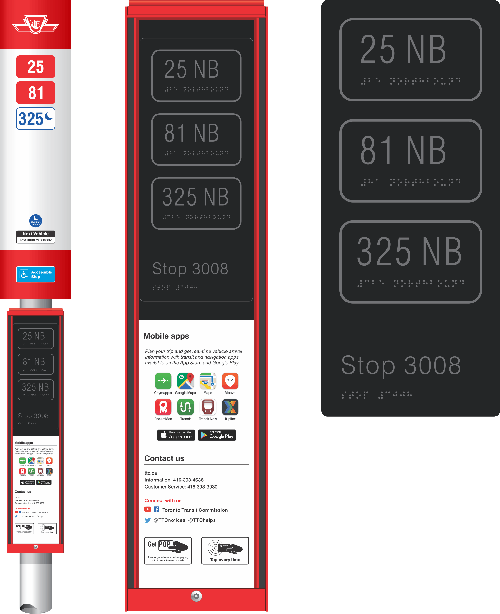 The signs are located at the following 10 locations (20 stops):
| Stop ID | On Street | At Street | Direction | Location | Routes |
| --- | --- | --- | --- | --- | --- |
| 15225 | Bathurst St | Niagara St | Southbound | Nearside | 511 |
| 15226 | Bathurst St | Niagara St | Southbound | Nearside | 307 |
| 14864 | Fleet St | Bathurst St | Eastbound | Nearside | 145, 307 |
| 10210 | Fleet St | Bathurst St | Eastbound | Nearside | 509, 511 |
| 2646 | Freshmeadow Dr | Don Mills Rd | Westbound | Nearside | 25, 925, 325 |
| 9116 | Freshmeadow Dr | Don Mills Rd | Westbound | Nearside | 51 |
| 6625 | Highland Cr Overpass | Kingston Rd | Northbound | Nearside | 86, 986 |
| 11560 | Highland Cr Overpass | Kingston Rd | Northbound | Nearside | 38 |
| 3008 | Pape Ave | Torrens Ave | Northbound | Farside | 25, 81, 325 |
| 14326 | Pape Ave | Torrens Ave | Northbound | Farside | Wheel-Trans |
| 6850 | Queen St W | Shaw St | Eastbound | Nearside | 501, 301 |
| 6051 | Queen St W | Shaw St | Eastbound | Nearside | 63, 363 |
| 15722 | Lake Shore Blvd | Royal York Rd | Eastbound | Nearside | 501, 508, 301 |
| 5197 | Lake Shore Blvd | Royal York Rd | Eastbound | Nearside | 145 |
| 15721 | Lake Shore Blvd | Miles Rd | Eastbound | Nearside | 501, 508, 301 |
| 5191 | Lake Shore Blvd | Miles Rd | Eastbound | Nearside | 76, 145 |
| 15720 | Lake Shore Blvd | Norris Cres | Eastbound | Nearside | 501, 508, 301 |
| 5194 | Lake Shore Blvd | Norris Cres | Eastbound | Nearside | 76, 145 |
| 162 | Bathurst St | King St W | Southbound | Nearside | 511 |
| 15365 | Bathurst St | King St W | Southbound | Nearside | 307 |