Wheel-Trans is TTC's specialized transit service
TTC Wheel-Trans provides a safe and reliable accessible transportation option for persons with disabilities to travel with freedom and dignity. This includes Wheel-Trans trips that connect customers to a subway station or bus stop. Wheel-Trans vehicles include accessible buses, contracted accessible taxi minivans and sedan taxis. Service is provided anywhere within the City of Toronto under the regular TTC fare structure. Wheel-Trans is a shared ride, public transportation service.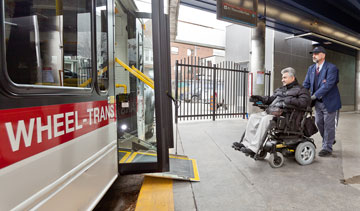 Currently, there are more than 42,000 registered customers who use our service and we provide over 4 million door-to-door trips each year in the City of Toronto. Our Wheel-Trans team accommodates 99.9% of all trips booked by our customers either online or by phone. Our 10-Year Transformation Strategy that includes the transitioning of customers with conditional eligibility to conventional services continues to move forward successfully. This is thanks in large part to the support of our customers who let us know what we're doing right and how we can improve. It is our ongoing commitment to provide a safe and comfortable Wheel-Trans experience to all customers now and into the future
Our Mission: How we support the community
As part of a fully accessible TTC, we provide barrier free, accessible service that is efficient, reliable and available.

Our Vision: What we strive for
An accessible transit service that ensures dignity, spontaneity, fairness, and freedom of travel for all customers.
Service Area
Hours of operation
24 hours a day, seven days a week
Travel time
Schedule your arrival at your destination at least 30 minutes prior to your required arrival time to allow for traffic or other unforeseen circumstances.
Be sure that your destination is open, as drivers cannot wait until a facility opens. This would cause delays to other customers.
Trip booking options
Occasional trips are trips that are booked up to seven days in advance of travel. For example, you can call on Monday to book trips for Tuesday and up to and including the following Monday.
Regular trips are recurring trips at the same time, on the same day of the week and to the same destination for a minimum of two weeks, e.g. trips to work, school or physical therapy.
Same day trips are trips booked on the day of service, at least four hours prior to the desired pick-up or drop-off time.
Arrival vs. departure time requests
Arrival time: You need to arrive at your destination at a specific time, e.g. doctor's appointment. Plan to arrive 30 minutes prior to your appointment.
Departure time: You need to leave a destination at a specific time, e.g. leaving work.
Scheduled trip times
At the time of booking, you will be given a window of time for your pick-up, e.g. between 10 a.m. and 10:30 a.m.
On the evening prior to your trip (after 7 p.m.) or on the morning of your trip (beginning at 8 a.m.), you will receive an automated phone call that will provide you with the exact pick-up time, the destination(s) and the type of vehicle that will pick you up.
If you do not receive a phone call, please call the RideLine at 416-397-8000 at least an hour prior to your scheduled pick up to obtain your trip information.
Assistive Devices
We need to know the type of assistive device you will be using in order to determine the type of vehicle to send to you for pick-up.
If you do not inform us or change your mind on the day of service, the wrong vehicle type may be sent to you. This could result in a significant delay to you as we make arrangements for a vehicle that can accommodate you.
Be scent aware
Please avoid the use of strong scents when travelling. Strong scents can have adverse health effects on customers.
Support person or companion
You may travel with:
One (1) companion or support person for a total of two travellers (including yourself)
All your dependents (children)
After 9 p.m., or on the day of service, you can contact us to see if we have space for additional passengers.
Anyone travelling with you must pay the appropriate fare with the exception of a support person and only if you have a valid support person card.
On weekends and holidays, you may bring as many companions or support persons from the same household that we have space for at the time of booking.
Major destinations (landmarks)
At frequently travelled to destinations such as hospitals or shopping malls, you will be picked up and dropped off at designated entrances. We cannot accommodate requests for other entrances.
Do not leave unattended (DNLU)
Family members or caregivers may contact Customer Service if you require a DNLU designation on your file.
A DNLU designation alerts our drivers to your need to be placed in the care of someone when arriving at your destination.
To avoid delays to our service, we require the caregiver at the destination to be on time. If someone is not available to receive you and it causes a delay to service, we may require you to travel with a companion at all times.
The customer has been approved for unconditional or temporary eligibility. Customers with conditional eligibility should not have a DNLU designation.
Narrow or congested streets
You may be required to travel a distance from the vehicle to your destination because of parked cars and narrow or dead-end streets.
Drivers will escort you from the vehicle to the first set of accessible doors at your destination.
Private driveways
Buses cannot enter residential driveways for safety reasons.
Ramp/walkway conditions
Ramps and walkways at pick-up and drop-off destinations must be:
Clear of debris, ice and snow
Ramps must have non-slip surfaces
Ramp slope must not be too deep
Ramps must have railings
Snow and ice hazards
Your ramp, driveway and sidewalks must be cleared of ice and snow. Failure to do so may result in the cancellation of your trip.
If you require snow removal, please contact the City of Toronto by calling 311.
Snow or severe weather on the day of travel

If we are experiencing severe weather or a major accumulation of snow, we recommend that you only take essential trips.
Same day cancellations will not be counted as a late cancellation.
We will post a message to this effect on the RideLine and on mywheel-trans.ttc.ca.
One-step policy
Drivers will only take your manual wheelchair up or down one step or a curb at the point of pick-up or at your destination.
Customers using a power wheelchair or scooter must use a ramp.
Travelling with pets
Note: The following does not apply to service animals.
Ensure that you indicate that you will be travelling with a pet when making your booking.
Pets must be on a leash or in a pet carrier at all times.
Animals showing signs of aggression will not be allowed to board.
Travelling with a service animal
Please indicate that you will be travelling with a service animal at the time of booking so that we can ensure there is space in the vehicle.
Travelling with bags, boxes or other personal items
You are responsible for transporting your personal belongings.
For safety reasons, all items must be secured.
Items should not protrude from your assistive device as this may make it impossible to safely secure your assistive device.
We reserve the right to cancel your trip if we feel that it is not safe or if you do not have a companion to help you with your parcels.
Lost articles
If you think that you may have left personal belongings on one of our vehicles, please contact Customer Service (416-393-4111) as soon as possible.
If your item is found, we will make the necessary arrangements to return it to you.
If a lost item is not claimed after 30 days, it will be sent to the TTC's Lost Articles Office, located in the Bay subway station.
Get more about the Lost Articles Office.
Width of bus doors and ramps
Assistive devices must not exceed a maximum width of 34 inches or 86 centimetres
Travelling outside the City of Toronto
Wheel-Trans service is available within the City of Toronto and up to one kilometre into the adjacent regions of York, Durham and Peel.
Specific transfer locations are in place for other regional para-transit services:
Transfer Point
Address / Info
Transferring Agency
Contact Information
Yonge-Steeles Access Hub
6464 Yonge Street
SW Corner of Yonge and Steeles,
in the parking lot of Centrepoint Mall
York Region Transit
Mobility Plus
905-762-2112
Pioneer Village YRT Station Regional Transfer
2800 Steeles Ave W
Pioneer Village YRT Platform 3
York Region Transit
Mobility Plus
905-762-2112
Freshmeadow & Don Mills Access Hub
4001 Don Mills Rd
N/E Corner
York Region Transit
Mobility Plus
905-762-2112
Kipling Transfer Point - West End Transfer
950 Kipling Ave
Transfer Point at Kipling Underpass
Region of Peel
Transhelp
905-791-1015
Humber Access Hub
205 Humber College Blvd
Platform #4
Region of Peel
Transhelp
905-791-1015
Meadowvale Access Hub - Transfer
1365 Meadowvale Rd
Durham Region Transit
Specialized Service
905-683-4114
Many specialized transit services have agreed to eliminate the requirement for a formal application process when a customer from another GTHA jurisdiction wishes to use their service, and meets the following criteria:
Uses a mobility aid; and
Is registered as eligible for specialized transit service and in good standing in their own municipality.
This applies to the following regions:
Brampton
Caledon
Durham
Hamilton
Milton
Oakville
Peel
York Region
If you are interested in becoming a customer in one of the jurisdictions above, please contact Customer Service at 416-393-4111 or wtcs@ttc.ca.
Service to Toronto Pearson Airport
Wheel-Trans offers service to Lester B. Pearson airport for the cost of your TTC fare. You are responsible for carrying your luggage.
Pick-up and drop-off locations are:
Terminal 1: Arrivals Level 1, Doorway E
Terminal 1: Departures Level 3, Post 9
Terminal 3: Departures Level, Sign 29 (under covered walkway)