Underground Sounds TTC Subway Musicians Program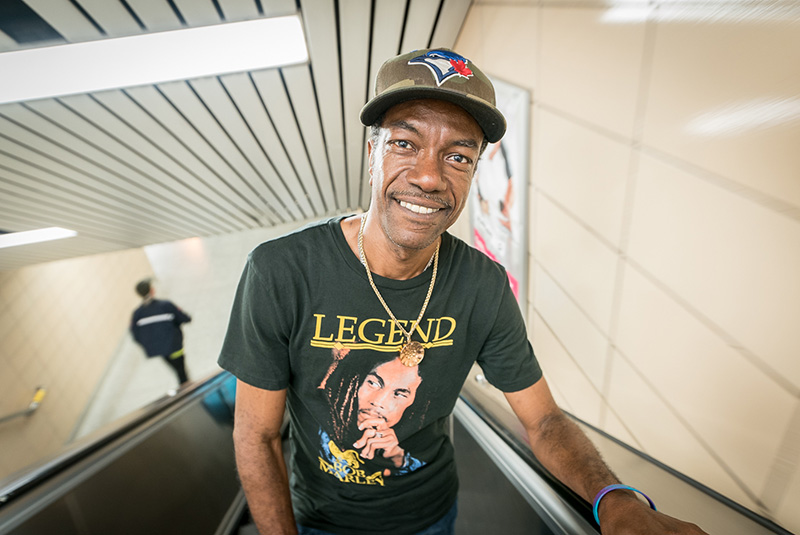 Dwight Belgrove
The steel drum has always been a part of Dwight Belgrove's life. His father and some friends formed a band around the time he was born, which lead to his love of the unique instrument. He can be found playing R&B, folk, calypso, jazz, reggae and pop, and his favourite song "Melosian Rhapsody". Dwight's main musical influences are from Trinidad, where he lived until 1992, and artists such as Michael Jackson and Stevie Wonder.
Discover the TTC's underground musicians
The TTC's subway musicians program has enhanced customer experience for more than 35 years, while providing exposure to budding local musicians. Ninety licensed musical acts perform at one of 30 dedicated spaces throughout your TTC journey. The subway musician program has included Juno award winners, Royal Conservatory of Music graduates, symphony performers and published musicians.
Every three years, the TTC holds auditions for ninety (90) coveted licenses with the next audition taking place in 2021 for the next three-year program, period 2021-2024. In 2018, we changed things up. We have a new name for the program – Underground Sounds TTC Subway Musicians. We increased the number of stations that have performers and we accepted online auditions for the first time ever.
Underground Sounds TTC subway musicians have been involved in projects to celebrate special events happening in Toronto, and they're often approached to play private functions or give music lessons. We encourage you to check out their profiles and connect with them directly.
Musician Profiles
Get to know our Underground Sounds TTC subway musicians! View profiles and videos of the talented underground performers.