Easier Access project
Spadina Station
The TTC is making progress towards its goal of making all of its stations accessible as part of the Easier Access program. This program includes the installation of elevators, accessible doors, and updated signage and wayfinding at all subway stations.
Construction at Spadina Station (Line 1) has begun and will be completed by the end of 2024.

What we are doing and why

The TTC is building two new elevators to create a barrier-free path from the street to the subway platform level. The Easier Access improvements will include:
Two new elevators, one to each passenger platform
Improved signage
CCTV – Security cameras inside the station
Public art installation as a part of the TTC Public Art Program
What to expect
The first major phase of work will include shoring and excavation activities for the new elevator shafts, located on north east and south west corners of Spadina Road and Lowther Avenue. Work will be completed in two phases, starting with construction of Elevator 2 (E2) on Lowther Avenue west of Spadina Road and the moving onto Elevator 1 (E1) on Lowther Avenue east of Spadina Road.
Traffic and pedestrian details
Traffic on Spadina Road maintained with lane restrictions.
Lowther Avenue west is scheduled to be closed for vehicle access to and from Spadina Road from September 19, 2022, until Q4 2023.
Sidewalk closures / detours will be required.
Work hours

Work will typically take place Monday to Friday between 7 a.m. and 7 p.m. Some work on weekends and overnight may be required.
TTC service
Subway service at the station will be maintained throughout construction.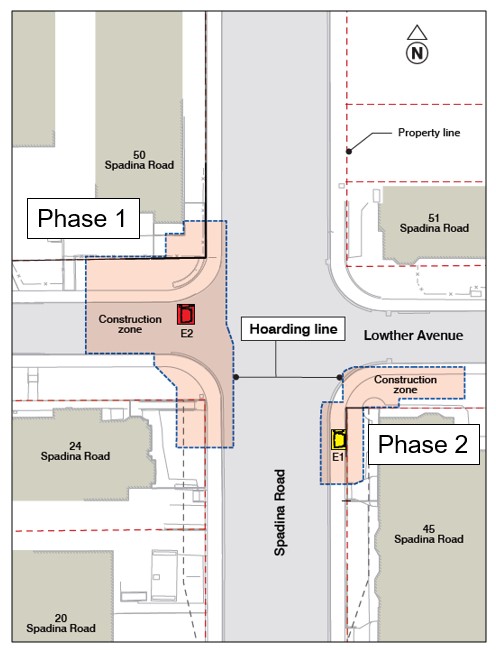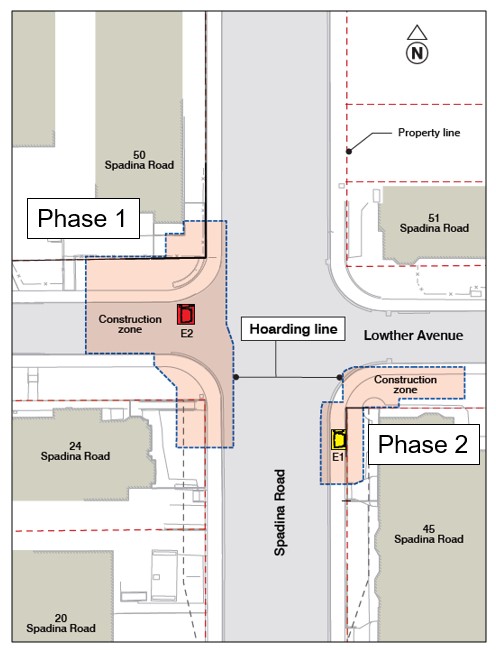 Easier Access Program Information
TTC's Easier Access Program will make all subway stations accessible to everyone, regardless of their level of mobility. Today, more than half of our stations are accessible to people with disabilities. Learn more about the complete schedule.

Station Completion Schedule

TTC is making progress towards its goal of making all of its stations accessible as part of the Easier Access program.

| Stations | Complete in |
| --- | --- |
| Donlands | 2023 |
| Castle Frank | 2023 |
| Spadina | 2024 |
| College | 2024 |
| Lawrence | 2024 |
| Greenwood | 2024 |
| Christie | 2024 |
| Summerhill | 2024 |
| High Park | 2024 |
| King | 2024 |
| Museum | 2024 |
| Rosedale | 2024 |
| Old Mill | 2024 |
| Glencairn | 2024 |
| Warden | 2024 |
| Islington | 2024 |

All schedules are subject to change.
Contact Us
If you are interested in receiving updates about this project, please email your contact information to:
Reka Sivarajah
Senior Community Liaison
437-994-6317
Reka.Sivarajah@ttc.ca
Please be sure to include your name, address (including city and postal code), phone number and email address.
Also, please let us know how you prefer to be contacted – by email, regular mail or both.