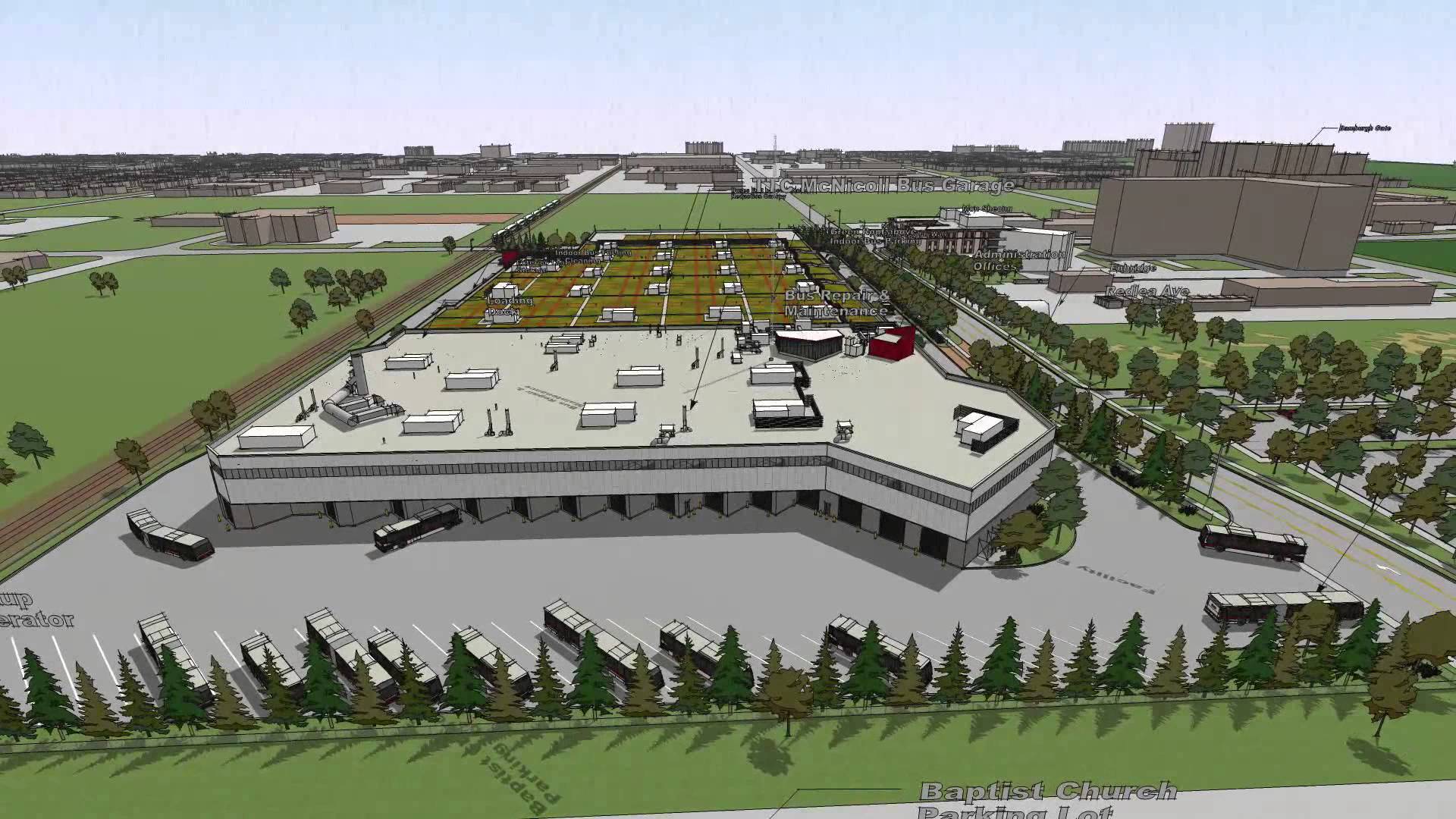 Project assessment and construction
Within the next five years, TTC will need a new bus garage to accommodate its growing ridership and expanding bus fleet. The new facility is planned to be constructed at Kennedy Road and McNicoll Avenue in Scarborough, and will store and maintain a combination of articulated and regular buses.
On December 20, 2016, the TTC Board approved the staff recommendation to award the construction contract for the McNicoll Bus Garage. A copy of the report is available here: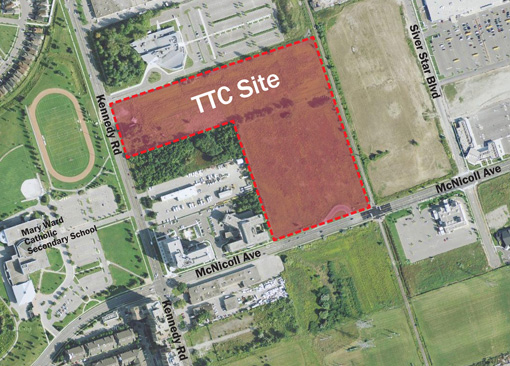 TTC will be hosting an open house to share details on construction of the new McNicoll Bus Garage.

Construction of the new facility will begin this spring and is scheduled for completion by mid-2020. The site will include hundreds of new plantings as well as one of the largest green roofs in Canada.

Join TTC staff and learn more about the project, construction schedule, staging plans, as well as the benefits this new facility will bring to transit in Toronto.

Event Details:

Date: June 12, 2017
Time: 6:30 p.m. to 8:30 p.m.
Location: Mary Ward Catholic Secondary School 3200 Kennedy Road, Scarborough, Ontario

For more information:

Lito Romano
Community Liaison, TTC
lito.romano@ttc.ca
416-397-8699

Cantonese-speaking translators will be available for this event.

此通知書亦有中文譯本

Download a copy of the open house flyer in Cantonese.

On October 20, 2015 TTC hosted an open house to share the preliminary concepts for the perimeter landscaping and options for the exterior design of the McNicoll Bus Garage. The event took place at Mary Ward Catholic School and included facilitated break-out sessions where participants provided feedback on the following four areas of the design:

Building Façade
Noise Barrier Wall
Green Roof
Perimeter Landscape

Presentation panels and comment cards were available at the meeting and can be viewed at the following links:

On May 21, 2015, TTC issued a Notice of Completion informing the community and stakeholders that the Environmental Project Report is available for comment for a 30 day period ending June 22 2015. Following this stage, all submitted comments will be reviewed by the Ministry of the Environment and Climate Change (MOECC) as part of their 35-day review.

Copies of the Notice of Completion are also available in Chinese.

Hard copies are also available for review at public locations in the vicinity of the site. Please refer to the Notice of Completion for details and contact information. The complete EPR is available electronically below:

On May 14, 2014 community members gathered at Kennedy Public School to learn more about plans for the new bus maintenance and storage facility.

Provided information on, schedule, process, traffic impact and air quality.

On November 27, 2013 TTC held an Open House to inform the community about plans for this new bus garage, which will be built to Toronto Green Development Standards. A complete report, including the presentation panels, is available below:

If you are interested in receiving updates about this project, please email your contact information to lito.romano@ttc.ca. Please be sure to include your name, address (including city and postal code), phone number and email address. Also, please let us know how you prefer to be contacted – by email, regular mail or both.
TTC's eight existing bus garages are over capacity today; a new facility is needed in north Scarborough.
McNicoll Bus Garage is part of TTC's commitment to improving transit service and meeting growing ridership demand.
Will be third new bus garage in past 20 years (Mount Dennis 2008, Eglinton/Comstock 2002).
The McNicoll facility will improve operating efficiency by reducing out of service "dead-heading" time which can be re-invested into "in service" transit improvements for TTC riders.
Scheduled to begin construction in 2017 and be operational in 2020.

The TTC hosted three public meetings on November 27, 2013, May 14, 2014 and February 5 2015, as well as with adjacent property owners, to share details about this project. Interpreters were provided at each event. Consultation and draft Environmental project reports are available on the McNicoll Project website.
TTC also hosted separate meetings for residents at the Bamburgh Condo and Mon Sheong Foundation. Some suggestions from these meetings were incorporated into the revised design. For example, the diesel tanks were relocated in the design to address concerns from the community about potential noise during refuelling operations.
Traffic, emissions and noise were raised as concerns. The TTC addressed each of these through the Transit Project Assessment Process (TPAP) during public meeting and in the project's Environmental Project Report (EPR). TTC will ensure all emissions and noise levels are well within Ontario Ministry of the Environment standards.
Some residents were concerned about how the TTC refuels its buses. TTC operates eight other bus garages and has a wealth of experience and an excellent safety record on managing fuelling operations at these facilities.
TTC consulted with Toronto Public Health (TPH) to ensure that community health concerns were addressed. Comments are reflected in the Environmental Project Report (EPR) which was posted at on the project website and reviewed by the Toronto Public Health and the Ministry of Environment and Climate Change. The review by TPH concluded that impacts to public health from this project were insignificant.

The majority of buses will access the facility during off-peak periods having minimal impact to congestion in the area. The buses are a very small fraction of total traffic volume in the area, and improved transit is part of the solution to the City's traffic challenges.
Reducing the time it takes for a bus to get to its route and return to the garage (dead heading) means more resources will be available to improve service on local routes, including the 43 KENNEDY and 42 CUMMER.
The City of Toronto is extending Milliken Boulevard (formerly Redlea Avenue), which will help relieve heavy traffic on Kennedy Road. Construction of this extension is scheduled to be completed in 2016.
Project Need and Construction
Transit Project Assessment Process (TPAP)
Contact us
If you are interested in receiving updates about this project, please email your contact information to lito.romano@ttc.ca.
Please be sure to include your name, address (including city and postal code), phone number and email address.
Also, please let us know how you prefer to be contacted – by email, regular mail or both.
Lito Romano, Senior Community Liaison
Toronto Transit Commission
416-397-8699
lito.romano@ttc.ca
Construction notices
McNicoll Bus Garage - weekend work
Starting September 30, 2017 and onwards
Construction notices for projects can be found here