Join us in celebrating Indigenous people and communities
June is National Indigenous History Month. It allows us to reflect on the history, culture, contributions, and strengths of our First Nations, Inuit, and Metis Peoples.
It is also an opportunity to learn and show recognition of the role Indigenous Peoples have played and continue to play in shaping Canada.
This year, the TTC's Indigenous History Month awareness campaign will be focused on Indigenous artists from the Greater Toronto area and will celebrate the ways their art has enhanced Indigenous culture in the city. Customers will see wrapped buses and streetcars across the city that features Indigenous art as well as posters inside our buses, streetcars and subways.
In developing this campaign, the TTC's Diversity and Racial Equity team engaged meaningfully with the Mississaugas of the Credit First Nation and the Haudenosaunee (Six Nations of the Grand River) to ensure that First Nations were fully engaged in the process.
Diversity and inclusion are top priorities at the TTC, as we strive to become a leader in the industry on confronting existing issues and making meaningful changes to address them. Connecting people to Indigenous culture is an important way for us to show the value that diversity brings to our city and our system.
Check out our Ride & Find guide to learn where you can see these pieces and the artists behind them.
Art and artists
Que Rock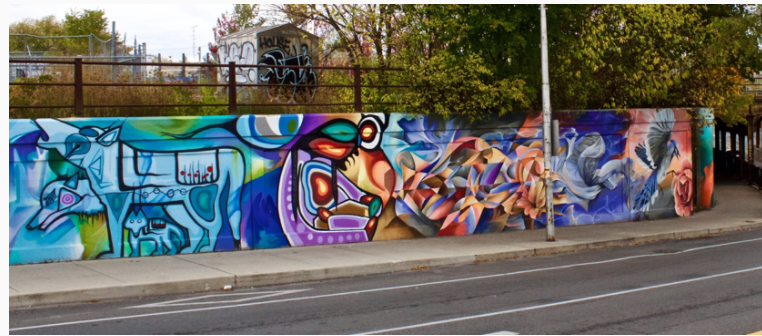 Wolf Clan (Miangun Dodem)
Que Rock is a Nipissing First Nation-born, multi-disciplinary artist. He started life learning his Anishinaabe and Odawa cultures through ceremonies. As an Anishinaabe graffiti artist, his work has matured from quick pieces into large street art projects and canvas work. Using his Anishinaabe teachings and different methods, Que Rock focuses on unique painting styles and techniques to create smooth transitions of colour, blending abstract forms with realism and expressionism.
Que Rock aspires for his artistic evolution to form a distinct look and feeling in all the art forms he works with – dancing, emceeing, DJing, painting and designing. He calls his style "making the woodlands dance". His goal is to portray the teachings of his ancestors, sacred geometry and shapes in all his art forms to create a visual healing experience for the viewers.
Philip Cote

The Original Family
Anishinaabe-izhini-kaaz-o-win Nodj-mowin-Miskogayaashk Gichi-manidoo-anishinaabe indoodem Mishu-pishu niin Anishinaabe, Shawnee, Lakota, Potawatomi, Ojibway, Algonquin Min-a-waa Mohawk. Philip Cote, MFA, Moose Deer Point First Nation, is a Young Spiritual Elder, Indigenous artist, activist, educator, historian, and Ancestral Knowledge Keeper. He is engaged in creating opportunities for art-making and teaching methodologies through Indigenous symbolism, traditional ceremonies, history, oral stories, and land-based pedagogy. Citing all of his ancestry, Philip Cote is Shawnee, Lakota, Potawatomi, Ojibway, Algonquin, and Mohawk.
Learn more about The Original Family.
Dayle Hawkins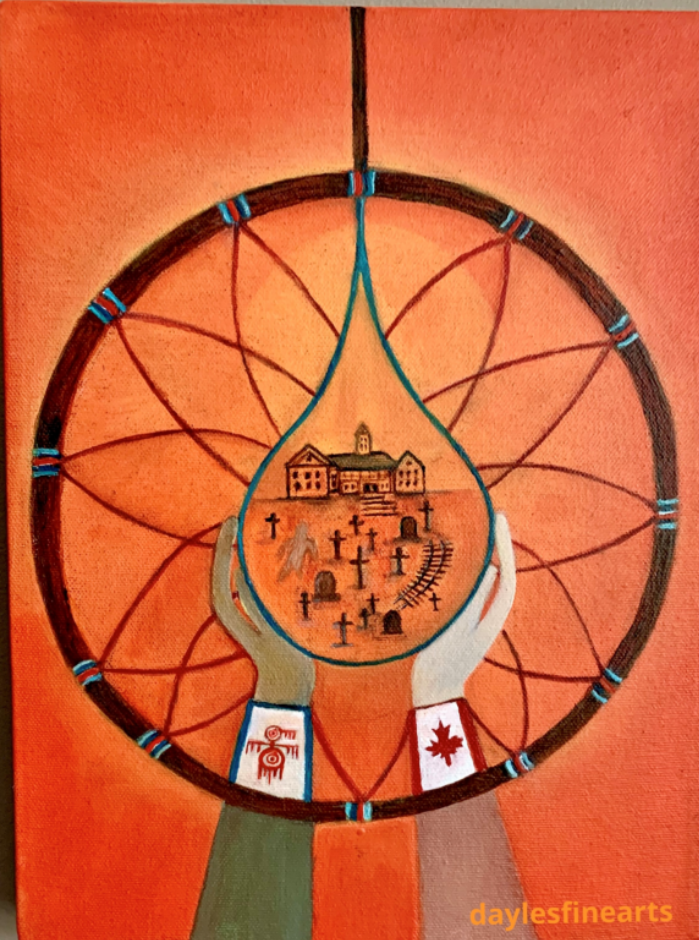 United Spirits
Presently residing in Toronto, and originally from Hamilton, Dayle Hawkins has been studying art for as long as she can remember. She was an active member of the Art Gallery of Burlington where she took lessons for over 10 years using many different mediums.
Dayle was an amateur musician for many years playing violin as a recreational hobby and worked as an Educational Assistant for about 23 years with special needs children. Since retiring in 2015, she enjoys painting, golf and is presently a volunteer for Meals on Wheels.
Dayle's mother's family are members of the Mississauga of the Credit First Nation. Her grandmother and her siblings were survivors of the residential schools.
David M. General
Maanjidowin: The Gathering
David General, an Oneida/Mohawk Indigenous artist and a member of the Six Nations of the Grand River. is known for blending Indigenous and modernist styles and typically working with stone.
Prior to his art career David worked as a Journeyman Bridge and Structural Steel Ironworker, an Elementary School Teacher and an Arts & Culture Officer with the federal government.
David also served several years on the Six Nations Elected Council, first as a Councillor and then as Elected Chief from 2004 to 2007.
Since 1980 he has worked as a full-time sculptor developing a distinctive modernist style in marble and bronze. His most recent works are typically large scale, with a 2019 commission and installation of a granite sculpture at the University of Ottawa celebrating the long and continuing history of the Anishinaabe people. David's sculpture is in the permanent collections of The Royal Ontario Museum, McMichael Canadian Collection, Indian Art Centre Collection, Indian and Northern Affairs, Woodland Indian Cultural Educational Centre, Thunder Bay National Exhibition Centre, Ontario Crafts Council, McIntosh Gallery, University of Western Ontario and the Dunlop Art Gallery, Regina, Saskatchewan.
More on Maanijidowin: The Gathering
Paula Gonzalez-Ossa with Na-Me-Res-Sagatay

The Spirits of the Ancestral Trees
Born in Talca, Chile, but based in Toronto, Canada, Paula "BOMBA" Gonzalez-Ossa is one of Toronto's pioneer artists of the New York-based and Hip Hop-founded graffiti writer culture. Her style fuses traditional mural production techniques gleaned from a rich texture of influences and Teachings from her native continent of South America, with the newer phenomenon of street art in North America. Gonzalez-Ossa has applied said process in collaboration with teams of Indigenous organizations and Knowledge Keepers to showcase Indigenous Teachings in relation to the lands of what we know as Canada, highlighting the pivotal stories they tell us. In addition, she has produced multiple murals throughout the city that communicate advocacy and empowerment for racialized, at-risk and under-represented communities. Gonzalez-Ossa has been voted Best Graffiti Artist for the City of Toronto by Now Magazine's Readers' Poll in 1997, in 2009, 2010, and 2011.
Gonzalez-Ossa is widely known as Canada's "First Woman of Graffiti", and has been painting since 1986.
She is assistant editor in the production of the 50- page photography book "Toronto Graffiti", which documents the history of the street- based artistic discipline in Toronto, from 1980-1991. Gonzalez-Ossa has been featured on CBC radio and Television, Much Music, MTV, Global Television, City TV, TVO, CTV, Bell Fibe TV1, Rogers Television, and Telelatino, as well as various television show appearances in Chile, Jamaica and USA. She is featured in multiple books and publications that outline the history of underground graffiti culture in Canada.
When not producing murals, she works as an Arts Educator and Visual Arts Instructor.
Na-Me-Res-Sagatay
In 1985, Na-Me-Res-Sagatay began offering emergency shelter to Toronto-based Aboriginal men who were without a place to live. The 26-bed shelter grew quickly to accommodate the growing needs of the community and as a greater understanding of the underlying reasons for Aboriginal homelessness emerged, Na-Me-Res implemented support programs to address those causes.
The Na-Me-Res team meets the physical, mental, spiritual, and emotional needs of their clients wherever they are on their journey. They are traditional Elders & teachers, case managers, counsellors, client care and support workers, street outreach workers, housing support and aftercare workers, Registered Nurses, Oshkabaywis (spiritual helpers), and a life skills coordinator. Na-Me-Res also partners with psychiatrists, doctors, and many other community service providers.
After a two-year hiatus – Na-Me-Res are thrilled to announce the 2022 Pow-Wow is being held at Fort York on Saturday, June 18th. It is a community festival in celebration of National Indigenous People's Day.
Ashley Cattrysse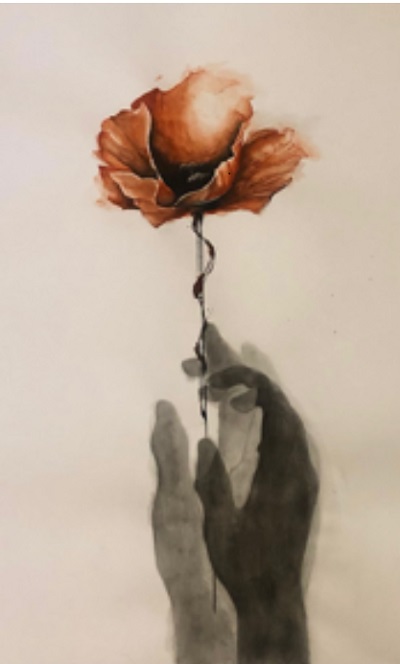 Remembrance
An Indigenous Youth, Wahta Mohawk Territory with art depicting family legacy, Indigenous historic and shared current matters including world view and interpretations of aspects of it. Her passion for multi-media art including watercolour, pencil and photography, with early beginnings. One of her early recognitions was her creative works, with a focus on Remembrance, for the Legions Provincial level. She has been showcased through local and virtual gallery exhibits, including international exhibits in recent years.
Steve Haven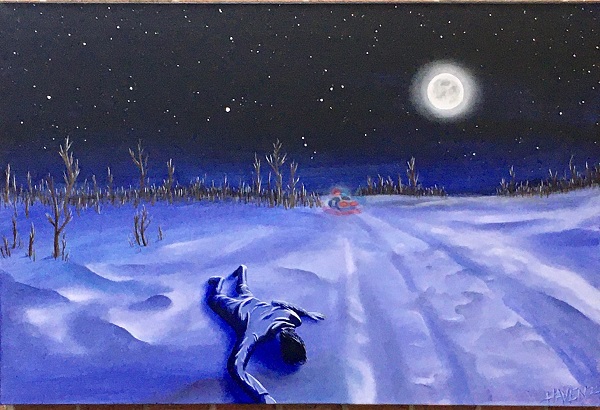 Stargazer
An Indigenous youth of Six Nations of the Grand River with a focus on tattooing as an art form and a method of personal expression, which contributes to part of a healing process.
He has a demonstrated flair for design and creativity including instrument design. His great attention to details assist in his thoughtful design and original tattoo plans.
A multi-media artist of ink, pencil and acrylic with diversity in the subjects and issues that inspire his themes including cultural event influence of social and justice context. His creative art of recent exhibits for "Grand Expressions", "Unmasking , Breathing, Moving Forward" gallery exhibits.
Thomas Anderson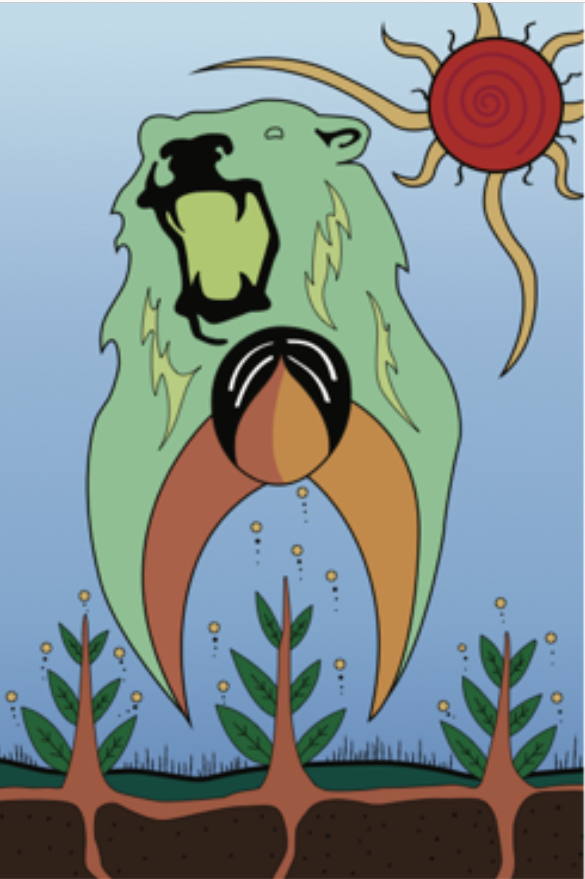 Medicine Walker
Thomas Harold Anderson was born February 27, 1997 at the Old Henderson hospital in Hamilton, Ontario. For the majority of his life Thomas has lived at the Six Nations reserve, or Ohsweken. He was born into the Cayuga nation and is of the turtle clan. His traditional name is "Sendegehyat", which means "He carries the Night on his back."
Early on in life there were signs of Thomas' creativity. Though he showed talent in art, he never thought to pursue it until later on in his life. In his 8th grade, he started to draw again, thanks to an art course in elementary school. He started to draw in a notebook and he started to see what has always been there. He showed his drawings to his mom and she was impressed. He then showed them to his grandpa, Jagwadeth Sandy, and he too was impressed. Noticing the passion and detail, he took Thomas to get his first sketch book. From that day forward, Thomas has chosen the path of the passion that had always been with him but never known.
Ken Maracle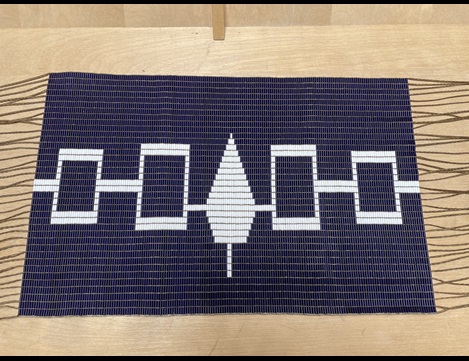 I am Haohyoh, (Ken Maracle), a faith keeper of the Lower Cayuga Longhouse and a member of the Cayuga Nation, Iroquois Confederacy, Deer Clan.
I have been making reproduction Wampum Belts for more than 30 years. I also make Condolence Canes, Horn Rattles, Water Drums, Traditional Headdresses and more.
I speak the Cayuga language and I am knowledgeable about the history of Wampum and the history of my people.
For many years I have studied The Great Law, Longhouse Traditions, Haudenosaunee history, Condolence Ceremony and Longhouse Ceremonies.
I have been so fortunate in my life to have known elders that so unselfishly shared their knowledge with me. It is now time for me to pass on that knowledge to others.
More of Ken's work can be viewed at www.wampumshop.com.
Four wampum belts reproduced by Ken are included in this campaign:
More on Six Nations of the Grand River can be found here.
This interview was provided by Ken Maracle and recorded on his behalf by Lyndon Akiwenzie: Interview recordings
Nishina Loft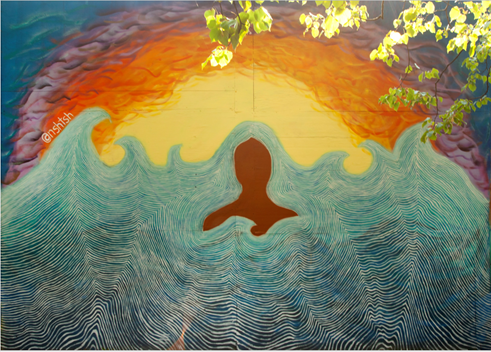 Ohné:kanos
Nishina Shapwaykeesic-Loft is a Kanien'kehá:ka woman from Tyendinaga Mohawk Territory. She is a 2S queer, multi-disciplinary artist in a wide spectrum of mediums. She has a Bachelor of Fine Arts with Honours from York University in Theatre Production and Design.
She works within the theatre industry with a specialization in costuming. She just completed working with the ADC for Designing the Revolution. She looks forward to working with Young People's Theatre as a costume designer for Bentboy.
She is a mural artist working within the city as a member of the RUN Collective. She works with StART as a project coordinator and an indigenous advisor for multiple projects.
She is the Programming Coordinator for the Toronto Queer Film Festival. She is the Print Traffic Coordinator at imagineNATIVE Media + Arts Festival. She completed the Indigenous Youth Artist-in-Residence at U of T Scarborough. She continues to grow within her field and explore new opportunities.