Newsletter of the Wheel-Trans Community
Message from Eve Wiggins, Head of Wheel-Trans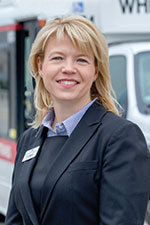 We've had an incredibly busy summer at Wheel-Trans. Work continues on new eligibility, the family of services pilot and we've had many consultation sessions about the 10-year strategy.
In July, we conducted four public consultations that were very well- attended. I was pleased to be able to meet some of you and provide an overview of where we're going in the next 10 years and based on what we've heard, for the most part, I think that our customers are in agreement with the strategy and direction for the future. But we also heard loud and clear that we need to ensure that all systems are running properly and all drivers are trained in how to support customers with disabilities. We've had the opportunity to meet with more than 55 stakeholders including local, provincial and national agencies, such as the CNIB, the Toronto Council on Aging and Variety Village. We've also met with the medical and legal communities including Arch Disability Law, the Ontario Medical Association and the Centre for Addiction and Mental Health. And finally, we've sat down with municipal and provincial stakeholders including the Ontario Human Rights Commission, The Honourable David Onley and the City of Toronto Disability Access and Inclusion Advisory Committee. It was extremely important to us that we meet with as many stakeholders as possible. We want to make sure that our 10-year strategy is sound and we want to gather suggestions for improvement.
In addition to all of the consultation sessions, we continue to finalize the new eligibility requirements. As you know, eligibility will be expanding to include cognitive, mental and sensory, as well as physical disabilities. There will be no immediate change for existing customers. Our focus is on welcoming new customers, and planning for how to re-certify current customers over a three year period using the same criteria. We expect to take a report to the TTC Board in September with our final recommendations for eligibility and an update on the strategy and its timeline for implementation,.
New Eligibility
In accordance with the Accessibility for Ontarians with Disabilities Act (AODA), by January 1, 2017, eligibility will be extended to persons with disabilities that prevent them from using conventional transit services.
There will be three categories of eligibility:
Unconditional eligibility: a person with a disability that prevents them from using conventional transportation services (currently referred to as permanent eligibility)
Temporary eligibility: a person with a temporary disability that prevents them from using conventional transportation services
Conditional eligibility: a person with a disability where environmental or physical barriers limit their ability to consistently use conventional transportation services (new)
Customers with sensory, cognitive or physical disabilities may be eligible for Wheel-Trans service and the eligibility could be short or long-term. Eligibility will be based on the applicant's ability to use conventional transit (i.e. bus, subway and streetcar) and not based on disability type, income or age.
Work is underway to develop the new application process including a new application form to ensure we are able to properly assess a person's ability to use conventional transit. The new eligibility process will only impact customers applying for service after January 1, 2017. Existing customers will undergo re-certification using the new criteria sometime over the next three years. More information will be made available in the coming months.
Easier Access Program and Family of Services
For getting around Toronto, the better way is becoming the easier way for seniors and persons with disabilities. The Toronto Transit Commission has made substantial investments to improve the accessibility of its vehicles and infrastructure. When the TTC is fully accessible, Wheel-Trans will operate as part of a "Family of Services" expanding the availability of service to all of our customers.
The TTC has made huge strides over the past decade to make public transit more accessible for everyone. The TTC's bus fleet is entirely accessible for people using mobility devices, as are all bus routes. Looking ahead to the TTC's streetcars of the future, those too will be low-floor and accessible.
Today, all of the train fleet is fully accessible, and nearly half of all Subway/RT stations are accessible to customers using wheelchairs and scooters. Delivery of the TTC's next generation of accessible subway trains – the Toronto Rockets – continue to make subway service even more accessible.
Avoid Busy Phone Lines
We're trying to reduce wait times.
Instead of calling us, visit mywheel-trans.ttc.ca or the Ride Line (416-397-8000) to get information, and book or cancel trips.
If your trip is after 11 a.m. the next day, call us that day for your trip information.
2016 TTC Public Forum on Accessible Transit
You're invited to give us ideas on how to make the TTC's services and facilities better for people with disabilities.
Thursday, September 15, 2016
Allstream Centre, Exhibition Place
105 Princes' Boulevard
One-on-One Discussions:
6 p.m. to 7 p.m.
Open Public Forum
7 p.m. to 9 p.m.
ASL, captioning, and attendants available. Refreshments won't be served.
TTC Board, TTC Staff, and members of the Advisory Committee on Accessible Transit (ACAT) will be on hand to hear from the public about the accessibility of conventional TTC and door-to-door (Wheel-Trans) public transit services in Toronto.
Can't attend?
If you can't attend, but would like to contribute your suggestions about TTC conventional and Wheel-Trans services, call 416-393-3030 (TTY at 416-338-0357) daily from 7 a.m. to 10 p.m., except statutory holidays.
This event will be live streamed.
Topics:
Discussion of previous Public Forum concerns and progress made
Update on Wheel-Trans 10-year strategy
Opportunity for the community to voice concerns or suggestions for accessible transit improvement
Read the 2015 Public Forum on Accessible Transit.
How to get there
An accessible shuttle bus service will operate from Bathurst Station to the Allstream Centre starting at 5 p.m. Return buses will start at 9 p.m.
Regularly scheduled accessible streetcar service is also available on the 509 Harbourfront route from Union Station. The Allstream Centre is 300m from the Strachan Avenue stop. For assistance in planning your trip using the TTC Accessible Transit Network, call TTC Customer Info at 416-393-4636.
Community Bus Routes
All Community Buses serve local bus stops along the route, but they can also be flagged Community Bus Route down at any point along the route.
The 400 Lawrence Manor Community Bus route provides accessible service in the Lawrence Manor and Lawrence Heights area. It operates between Lawrence West Station on Line 1 Yonge-University line, Lawrence Plaza, Baycrest Hospital, and the Wilson/Bathurst No Frills store, generally in a north-south direction. Lawrence West Station is an accessible station.
One single vehicle is operated: the 400 (Baycrest-Lawrence West Station) branch operates from approximately 9:30 a.m. to 6 p.m., from Monday to Friday only.
The 402 Parkdale Community Bus route provides accessible service in the Parkdale area.
It operates between Queen Elizabeth Hospital/Toronto Rehab, Lansdowne Station and Dufferin Station on Line 2 Bloor-Danforth line, and Dufferin Mall, generally in a north- south direction. Dufferin Station is an accessible subway station.
One single vehicle is operated: the 402 (Queen Elizabeth Hospital-Dufferin Mall via Dufferin Station) branch operates from approximately 9:30 a.m. to 6 p.m., from Monday to Friday only.
PRESTO Coming to Wheel-Trans
The PRESTO electronic fare payment system continues to rollout across the TTC. More than 700 TTC buses, 31 subway stations and all streetcars have PRESTO card readers. Later this year, PRESTO devices will be installed on 206 Wheel-Trans vehicles and 300 accessible taxis. The rollout will take approximately eight weeks and will be complete by the end of 2016. The contracted sedan taxis (approximately 2,200 vehicles) will be on the PRESTO system in 2017.
Once PRESTO is available on Wheel-Trans vehicles and accessible taxis, customers will be able to tap a PRESTO card on the operator's hand-held device to pay their TTC fare. The operator or the customer's support person can tap the PRESTO card, if assistance is required.
Depending on how customers travel within the TTC will determine whether it makes sense to get a PRESTO card at this time. PRESTO is right for adults who primarily travel by streetcar or enter a subway station that has PRESTO, and pay by token or cash. Seniors and students may wish to wait until more options are available for them to set a concession, instead of having to travel to the TTC's Customer Service Centre at Davisville Station. These options are being worked on and details will be shared when they are available. Metropass holders should also wait. More information will be provided about when Metropass users should switch.
PRESTO cards can be purchased:
Online: prestocard.ca
Telephone: 1-877-378-6123 (follow options 7-1-1 for TTY) or 1-800-855-0511
In person: At Gateway Newstands in Bathurst, Spadina, Broadview, Bloor-Yonge and Dundas subway stations; or at the Customer Service Centre at Davisville Station, 1900 Yonge Street.
Pre-loaded cards are available from TTC Pass-Vending Machines at the following accessible subway stations: Main Street, St Clair, Queen's Park and Union.
During the transition customers must carry tokens, cash or tickets in case the vehicle or subway station doesn't have PRESTO. Customers traveling by TTC bus should take a transfer from the operator in case the next bus that arrives doesn't have PRESTO.
Tickets and tokens will be phased out over 2017 and eventually all TTC customers over the age of six will require a PRESTO card.
More information about PRESTO on the TTC.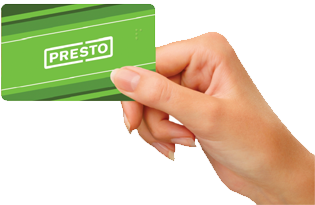 Ossington Station
Work started in summer 2014 to make Ossington Station accessible to all customers, regardless of their level of mobility. The work includes:
Two elevators to access eastbound and westbound platforms
Accessible fare gates
Barrier free path to the platform Automatic sliding doors to enter station Improved signage
CCTV – Security cameras
Resurfacing a portion of Delaware Avenue entrance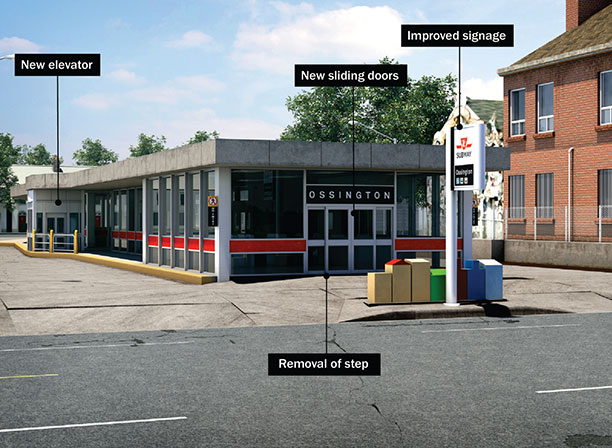 The newly-accessible Ossington Station is expected to open late in 2016.
Artist rendering of elevator placement at Ossington Station: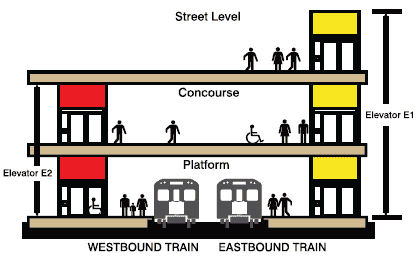 A message from ACAT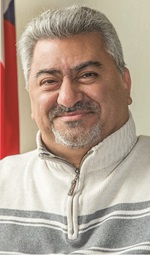 Hello, it's been a busy and exciting year so far for ACAT as we work with TTC staff to fast track accessibility initiatives that are necessary for improving the usability of all TTC services.
As part of the Wheel-Trans 10-year strategy, Wheel-Trans is reaching out to current customers to obtain their feedback on proposed changes as well as providing information on new eligibility criteria. The new criteria will open up Wheel-Trans service to other disabilities including sensory, cognitive and mental health impairments.
ACAT members attended the four public consultation sessions in order to receive first hand feedback about the issues and challenges that Wheel-Trans customers may face when using the TTC conventional system. ACAT has also been involved in stakeholder meetings and has suggested other disability organizations that TTC staff can reach out to for further consultation and discussion.
You can read more about our Wheel-Trans 10-year strategy.
ACAT recently completed promotional/ educational material to assist customers when using TTC services. You can read more about Easier Access on the TTC.
You can watch a short video about getting on and off TTC buses safely.
We recognize the challenges ahead but we are confident that we'll achieve our goal of a fully accessible TTC.
Mazin Aribi (ACAT Chair) Angela Rebeiro and Debbie Gillespie (Vice Chairs)
New TTC services mean faster trips, fewer transfers and shorter wait times
Book Your Wheel-Trans Trips Online @ mywheel-trans.ttc.ca
We've been listening to your comments and we've improved our online booking website substantially by eliminating the need for you to have to call in to add or remove addresses on your registered list. You can now do this on your own and manage your own registered addresses online.
As well, you can input any address in Toronto and schedule your ride without having to choose from a registered address, recent address or landmark.
The address search criteria allows you to enter a 'street number' and 'street name' and then select from all of the search results.
Let us know what you think. Send your feedback to wtcs@ttc.ca.
Employee Profile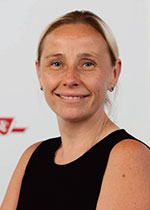 Louise Riggi; Wheel-Trans Dispatcher
I've been with Wheel-Trans for five years, first as an operator and now as a dispatcher. I really love what I do and the people I work with, but I especially like dealing with customers.
What's unique about Wheel-Trans is the opportunity to connect with customers. You build relationships with clients – they tell you about their families and other details about their lives.
As a dispatcher, we solve problems to help operators get people where they need to be. This job is different every single day – it requires you to be alert, tactful and empathetic. In some ways, I feel like the whole Wheel-Trans community is like a giant family. I've heard from our customers that if it wasn't for Wheel-Trans they wouldn't be able to get out to their appointments, or visit family and friends. I'm proud to be a part of that. I have a background in social work and really enjoy supporting people and having a hand in enhancing their lives.