Spadina Station (Line 1) – Easier Access
Phase 1 Staging for Elevator 2 Construction
Effective
April 28, 2023
until Q4
2024
Timeline: Staging in effect until completion of Phase 1*
(*subject to weather and unforeseen events, content / timeline accurate at time of publication)
Project Overview
TTC's Easier Access Program will make all subway stations accessible to everyone. Work has begun at Spadina Station on Line 1 to build two new elevators to create a barrier-free path connecting the subway platforms of Line 1 Spadina Station and the underground pedestrian walkway to Line 2 Spadina Station.
Phase 1

: Utility relocations west of Spadina Rd, construction of elevator 2 west of Spadina Rd.

Phase 2

: Construction of elevator 1 east of Spadina Rd.

Cross section image of station elevators
Phase 1 Staging for Elevator 2 Construction
Set up the Phase 1 staging for elevator 2 construction, which involves various work such as installation of temporary traffic signals, hoarding and jersey barriers, investigation of utilities and subway structures, etc.
What to Expect (until Phase 1 is completed)
Spadina Road (at Lowther Avenue) will be reduced to a minimum of one northbound lane and one southbound lane. No left turn from Spadina Road southbound to Lowther Avenue on the east side will be in effect until this lane reduction is lifted.

Jersey barriers, signage and pylons will be added for safety and to guide drivers and cyclists who share Spadina Road.

Traffic personnel will be on the site to assist with construction activities and equipment that affect pedestrians and traffic.

Temporary controlled crosswalks with traffic lights will be in place on Spadina Road north and south of Lowther Avenue.

Sidewalk detours continue to be in place.

Some noise and dust should be expected.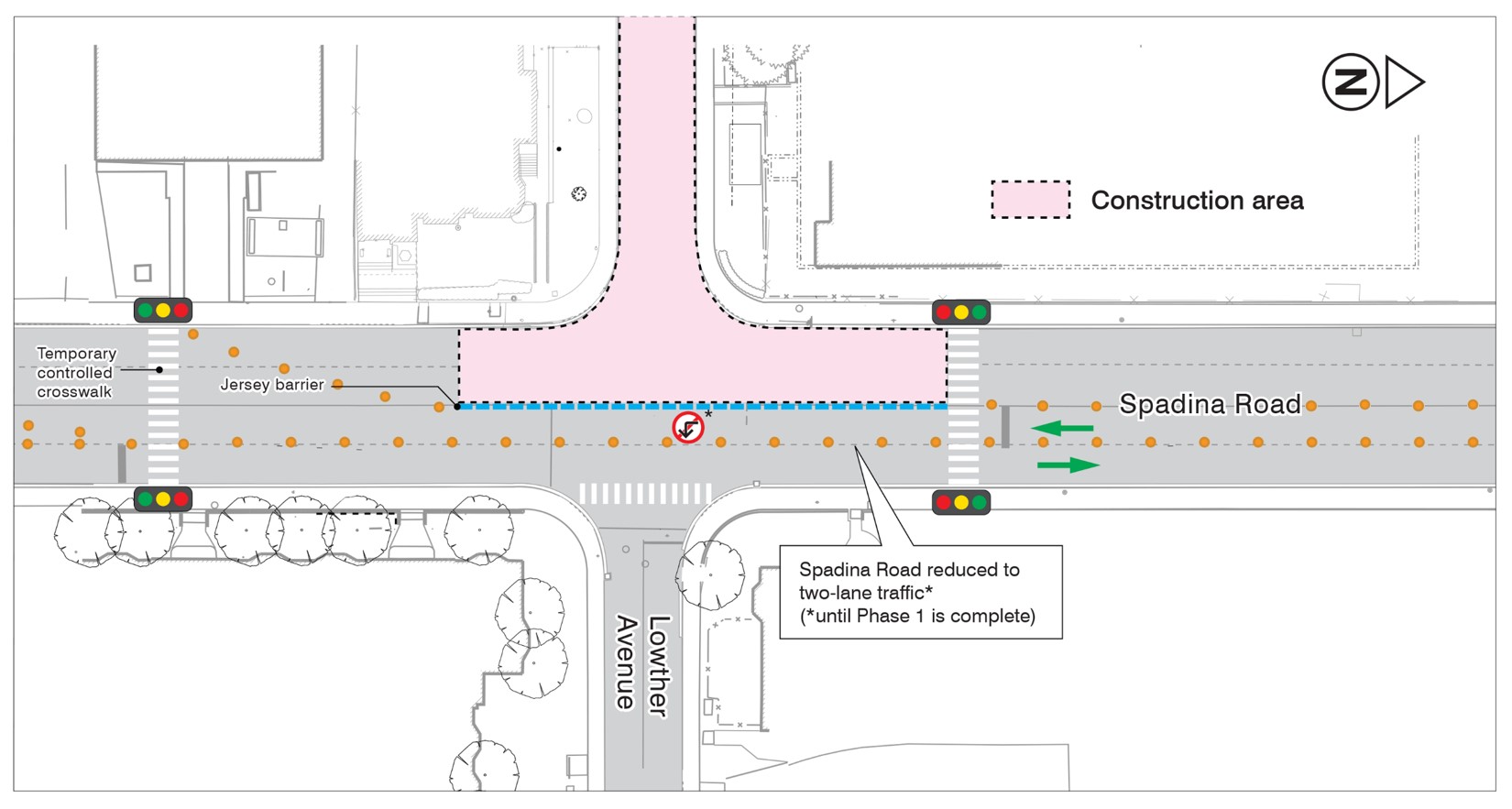 Image showing construction area for Phase 1 Staging for Elevator 2 Construction

Work hours
Work will typically take place Monday to Friday, between 7 a.m. and 7 p.m. Some work on weekends and overnight may be required.
TTC service
Subway and bus service will be maintained throughout construction with the exception of the bus stop(s) at Spadina Rd and Lowther Ave that will be out of service at various points during construction.
For further information
Thank you for your patience as we work to make Spadina Station Line 1 accessible.