Learn about our partnership with LOFT Community Services and The City of Toronto to provide additional support to individuals experiencing homelessness on the TTC.
For emergencies on subway trains, please push the yellow strip. This is the quickest and most effective way to alert us in an emergency.
Subway customers can access 911 on any network in tunnels through the downtown U on Line 1, between Downsview and Vaughan Metropolitan Centre, and all open-cut areas. We are working on expanding this coverage to all tunneled sections of the subway system to ensure that help is always within reach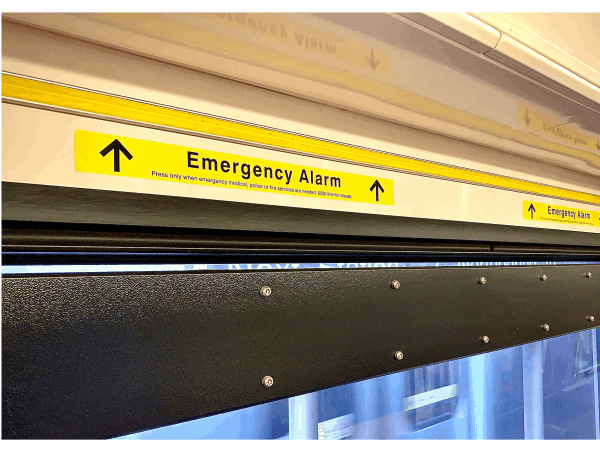 Enhancing Support for Vulnerable Individuals on the TTC
The City of Toronto and the TTC are partnering with community wellbeing experts at LOFT Community Services to better respond to the needs of vulnerable people sheltering on Toronto's transit system.
Through LOFT and the City's Multi-Disciplinary Outreach Team (M-DOT) program, individuals requiring more complex and longer-term supports will now have access to case workers and health care professionals, including registered nurses. This will ensure people are receiving the health and social supports they need long after crisis de-escalation and emergency response are complete. While not a crisis service itself, this new one-year partnership expands the City-funded M-DOT service, growing the specialized team of providers from various organizations that delivers services to the most vulnerable individuals.
There is an unprecedented need for increased services geared to individuals with complex needs who are using the TTC for shelter and warmth. Starting this month, LOFT staff will be deployed in the transit system to connect people with services, including physical and mental health supports, through a case management approach to ongoing care.
LOFT specializes in one-on-one support with daily living, assistance navigating the healthcare and justice systems, tailored referrals to addiction health care providers and other social services, and expert and peer support for community reintegration. It is expected that through this partnership, an additional 80 to 100 people experiencing homelessness on the transit system will have access to supports.
The increased Streets to Homes and Community Safety Ambassador teams announced in January are beginning to have a positive impact for people experiencing homelessness sheltering on the TTC. Since January, Streets to Homes outreach teams referred more than 202 people from the TTC to shelter.
The new LOFT supports are on top of measures underway by the City and TTC in recent months that include:
20 Streets to Homes workers to help individuals experiencing homelessness or at risk of homelessness access immediate supports like water, warm clothing and referrals to indoor space.
20 Community Safety Ambassadors bolstering the work of Streets to Homes teams in addressing the immediate needs of individuals experiencing homelessness.
50 security guards trained in mental health first aid, overdose prevention, and nonviolent intervention to assist people in crisis.
De-escalation training for all TTC Chief and Mobile supervisors and scheduling adjustments to ensure these specialized skills are where they are needed most.