Lawrence Station bus terminal closure
Effective November 19, the bus terminal at Lawrence Station will be closed for approximately 10 months, due to ongoing Easier Access work to install elevators at the station. Service will be adjusted in the following ways:
52 Lawrence West and 952 Lawrence West Express buses will divert to Eglinton Station via Avenue Road and Eglinton Avenue West.
Customers must travel to Eglinton Station to board 52 Lawrence West and 952 Lawrence West Express buses.
Customers wishing to continue eastbound from Avenue Road on Lawrence Avenue West to Yonge Street, can board the 124 Sunnybrook bus or 162 Lawrence-Donway bus at the temporary on-street stop at Avenue Road and Lawrence Avenue West.
952 Lawrence West Express buses will operate express between Lawrence Avenue West and Avenue Road and Eglinton Station, and 52 Lawrence West buses will serve all local stops on route.
124 Sunnybrook and 162 Lawrence-Donway will serve an on-street stop outside of Lawrence Station at Yonge Street and Lawrence Avenue.
Buses will be extend to Lawrence Avenue and Avenue Road. At Avenue Road, customers can continue on their regular route, as all local stops will continue to be served.
Subway service remains unaffected and will be maintained throughout the construction.
For real-time notices on these service changes, sign up for My TTC e-service alerts.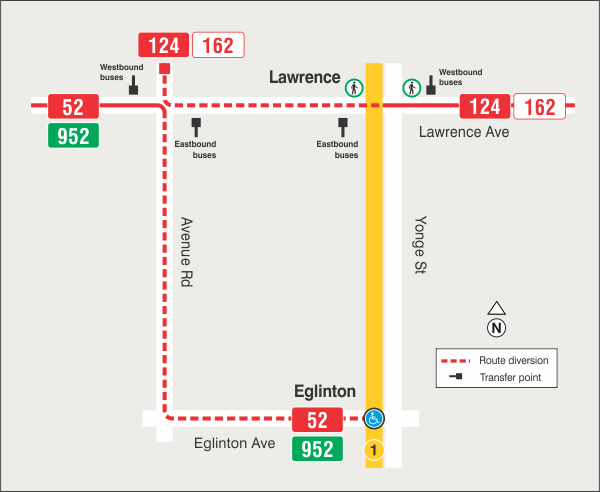 For more information on the Easier Access construction project at Lawrence Station, visit the project page.
For support with service changes or trip planning, connect with a TTC Customer Information Agent by phone 416-393-4636 or TTY 416-481-2523.
Frequently Asked Questions:
What work is happening at Lawrence Station and why?

As part of the TTC's Easier Access Program, Lawrence Station is under construction to make the station accessible.

The Easier Access improvements will include:

Two new elevators which will connect customers from the station entrance to the bus terminal and subway levels.
New stairs from platform to concourse level of the station.
Improved wayfinding and signage throughout the station.
Accessible sliding doors at the main entrance and barrier free doors throughout station.

Due to this construction, the station's bus terminal must close and service changes are required.

How long will the construction last at Lawrence Station?

The construction work at Lawrence Station is anticipated to continue until the end 2024.

Where can I find out more information about the Lawrence Station Easier Access construction project?

For further information about the Easier Access construction project at Lawrence Station visit, the

project page.