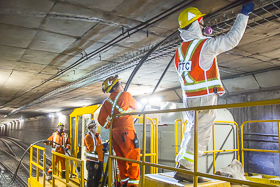 Project Summary
Automatic Train Control
The Toronto Transit Commission is re-signaling Line 1 (Yonge-University-Spadina) to improve reliability and capacity on Canada's busiest subway system. To complete the installation, commissioning and testing of Automatic Train Control (ATC), the TTC will close portions of the subway during some weekends.
During subway closures, crews typically install new cables, trackside signaling equipment or special track work in the tunnels. This work is labour intensive and cannot all occur during the normal maintenance window afforded the TTC each night when subway service ends, though work does continue in those areas each night. Each single day closure saves about five weeks of night work.
Future closures elsewhere on Line 1 will be required for the replacement of the entire signal system and track work. Dates and locations will be announced well in advance of those closures.
Critical subway infrastructure – be it signal systems, tunnel structures or track beds – requires constant maintenance and, after more than half a century of service in some cases, full replacement. When complete, the subway system will be more reliable, efficient and provide greater capacity for the TTC's 1.7 million daily riders.
TTC appreciates and thanks all of its customers, businesses and the public-at-large for their patience and understanding as this work progresses.
Benefits of signal upgrades
Some of the benefits that the ATC upgrades will bring to the system and all TTC subway riders include:
Train speed and separation between trains will now be controlled automatically rather than being human controlled
Real time central train control with precise train location data
Trains driven automatically reduce travel time as trains always travel as close to the civil speed limit as possible
Travel time consistent every run
Train electricity usage will become much more efficient