Bus Loop Upgrades
Main Street Station
What we are doing and why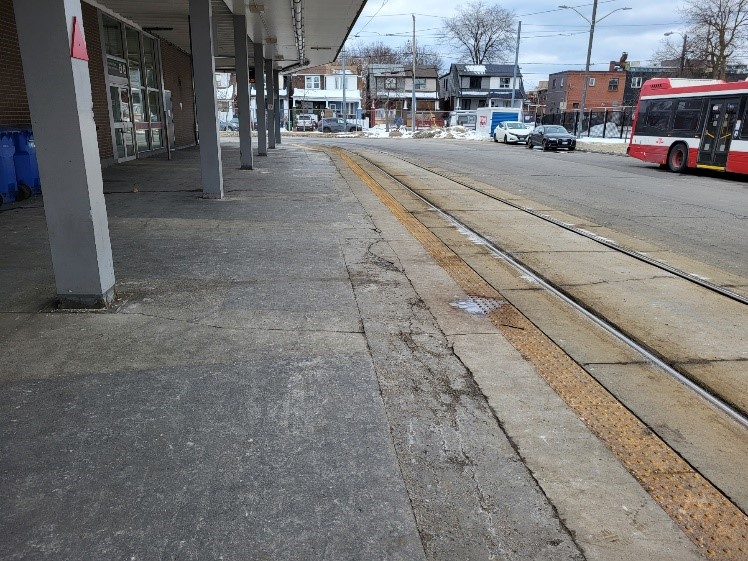 Starting May 7, 2023, the bus/streetcar loop at Main Street Station will be closed for infrastructure upgrades. Main Street Station will remain open for subway service. Bus and streetcar routes will be changed accordingly – please see details below.
Work includes:
concrete and asphalt pavement rehabilitation within the bus loop;
concrete bus platform rehabilitation, including tactile walking surface indicator; and
fencing replacement throughout the loop.
Construction activities may continue to end of November. Construction notices will be provided to the local community as work progresses.
What to expect during construction?
Asphalt and concrete rehabilitation, passenger platform upgrades, and fencing replacement.
Major construction activities include concrete and asphalt removal.
Normal working hours shall be 7:00 a.m. to 7:00 p.m. Monday to Friday. Work hours shall be 9 a.m. to 7 p.m. on Saturdays.
Efforts will be made to keep disruption associated with noise and dust to a minimum.
TTC service starting May 7
For Main Street Station service changes, visit the Service Changes page.

For support with service changes or trip planning, connect with a TTC Customer Information Agent by phone 416-393-4636 or TTY 416-481-2523.
Project documents
Contact us
If you are interested in receiving updates about this project, please email your contact information to the project's Community Liaison Officer.
Please be sure to include your name, address (including city and postal code), phone number and email address. Also, please let us know how you prefer to be contacted – by email, regular mail or both.
Emily Huang
Community Liaison Officer
Emily.Huang@ttc.ca
416-473-1056