Watermain and streetcar track renewal
Coxwell Avenue and Lower Gerrard Street East/Eastwood Road construction
What we are doing and why
The City of Toronto and Toronto Transit Commission (TTC) started work on the following infrastructure upgrades at the intersection of Coxwell Avenue and Lower Gerrard Street East/Eastwood Road started in May 2023:
Replacement of the 112-year-old water main that runs east-west along Lower Gerrard Street East and water service to the property line.

Replacement of the 25-year-old + streetcar tracks within 50 meters of the intersection (all directions, except Eastwood Road).
Work hours and timeline
Construction is expected to take eleven weeks to complete. Work will be completed in two phases: Phase 1 from May 8 to June 18; and Phase 2 from June 19 to early July.
Work will take place 24 hours 7 days a week. Excavation activities and heavy breaking will be carried out at various times throughout the day. The majority of excavation work will take place between 7 a.m. and 10 p.m. Around-the-clock work during rail installation by TTC is required to preserve the integrity and quality of new rail and concrete. Overnight rail work by TTC may consist of moving new rail into position, rail installation, and rail welding/grinding.
Traffic and parking restrictions
Travel will be impacted differently during each phase of work, as follows:
Phase 1:

A single travel lane will remain open in each direction along Coxwell Street and Lower Gerrard Street East (and through the intersection).

Phase 2:

The intersection at Coxwell Avenue and Upper Gerrard Street East will be closed to through traffic. Access can be achieved via the following alternate routes: Rhodes Avenue (from the east), Gainsborough Road (from the west), Fairford Avenue (from the north), and Dundas Street East (from the south). Laneway and driveway access will be maintained at all times.
TTC Service
Phase 1 - May 8 to June 17
506/306 Carlton buses have replaced streetcar service, operating on regular routing through the intersection.

506 streetcars are diverting via Broadview Avenue and Queen Street East to Kingston Road/Queen Street East.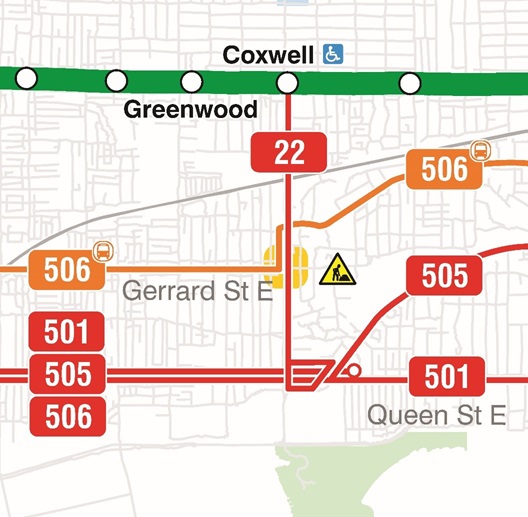 Phase 2 - June 18 to July 10
506/306 Carlton replacement buses

will divert via Greenwood Avenue, Danforth Avenue, and Coxwell Avenue to Upper Gerrard Street East.

This provides service on Coxwell Avenue from Danforth Avenue to Upper Gerrard Street East – refer to map

22 Coxwell buses

will be

suspended

. Access to Coxwell Station from the area of Queen Street East at Coxwell Avenue (and vice versa) will be maintained by temporarily extending the

31 Greenwood route

via Eastern Avenue to Queen/Coxwell Loop.

Service on the

31 Greenwood bus

will be

increased

to compensate for the temporary removal of the 22 Coxwell bus.

322 Coxwell Blue Night

will temporarily divert via Danforth Avenue, Greenwood Avenue, and Queen Street East
NOTE: during this time, all stops on Coxwell Avenue between Gerrard Street East and Queen Street East, and on Gerrard Street East between Greenwood Avenue and Coxwell Avenue, will not be served.
View a PDF version of the map
Contact us
If you are interested in receiving updates about this project, please email your contact information to the project's Senior Community Liaison Officer (TTC). Please be sure to include your name, address (including city and postal code), phone number and email address. Also, please let us know how you prefer to be contacted – by email, regular mail or both.


Michael Vieira
Senior Community Liaison
Michael.Vieira@ttc.ca
437-551-4609
For City of Toronto inquiries:
Mark de Miglio
Public Consultation Unit
Mark.Demiglio@toronto.ca
416-395-7178