Track Renewal
Broadview Station
Coordinated projects on Broadview Avenue
The TTC will be renewing aging streetcar tracks at Broadview Station. The City of Toronto and TTC have also coordinated the following essential infrastructure improvements along Broadview Avenue to limit impacts to the local community. The work includes:
Toronto Water Sewer Rehabilitation on Broadview Avenue - started week of May 7 and ongoing until mid-June, managed by the City
Streetcar track renewal on Broadview Avenue from Danforth Avenue to Gerrard Street East – starting in July and scheduled until the Fall, managed by the City in coordination with TTC
For further details on the City-led projects, please visit toronto.ca/BroadviewConstruction.
---
Broadview Station work
Later this summer, TTC will be renewing the streetcar track infrastructure at Broadview Station to maintain a state of good repair.
What to expect during construction
Rail replacement work on Broadview Avenue, Erindale Avenue and inside the station

Construction activities will include excavation, concrete removal, rail removal; new concrete and rail installation

The majority of disruptive work such as excavation will take place between 7 a.m. and 10 p.m. Other

rail-related activities are required around-the-clock to ensure quality installation of new rail and concrete.

Expected overnight activities include rail welding/grinding, placing new rail and concrete.
TTC Service - subject to change
Effective May 7 - Toronto Sewer work
Effective May 7,

504/304 King and 505 Dundas streetcars have been replaced with buses operating on Broadview Avenue to Broadview Station.
Starting on June 18, 2023 - no 504 King and 505 Dundas buses to Broadview Station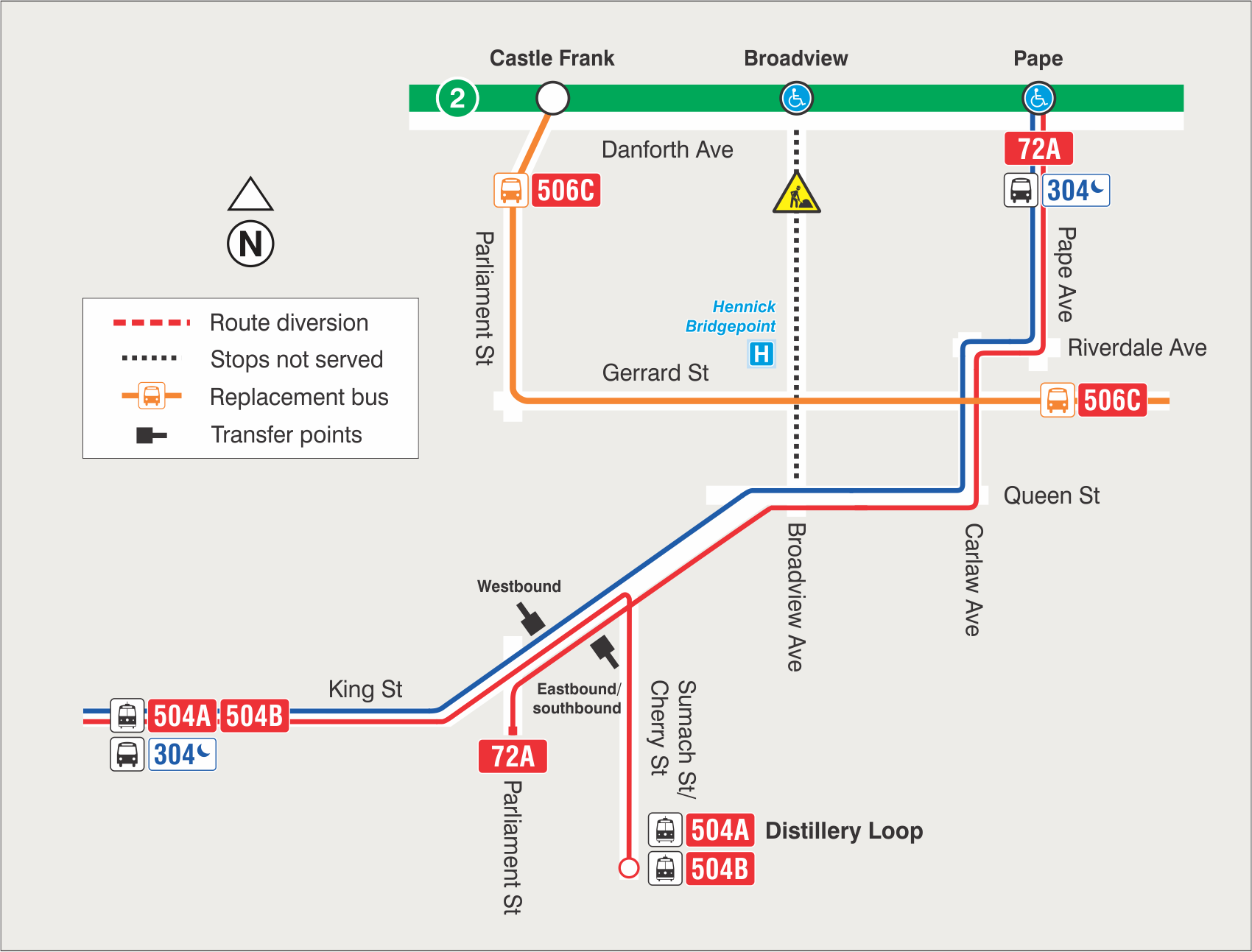 There will be no 504 King and 505 Dundas service on Broadview Avenue between Broadview Station and Gerrard Street due to construction.

Broadview Station will remain open and subway service maintained.
Alternative routes:

If travelling downtown:
Customers can take the 72A Pape bus southbound from Pape Station to King and Parliament streets, to connect to a westbound 504 King streetcar.

If travelling to Hennick Bridgepoint Hospital or east along Gerrard Street:
Board a 506C Carlton replacement bus at Castle Frank Station to Victoria Park Station. Please note that Castle Frank Station is not yet accessible.

Contact us
If you are interested in receiving updates about this project, please email your contact information to the project's Community Liaison Officer.

Please be sure to include your name, address (including city and postal code), phone number and email address. Also, please let us know how you prefer to be contacted – by email, regular mail or both.


Paul Tran
Senior Community Liaison Officer
BroadviewConstruction@ttc.ca
paul.tran@ttc.ca