Newsletter of the Wheel-Trans community
Message from Dwayne Geddes, Head of Wheel-Trans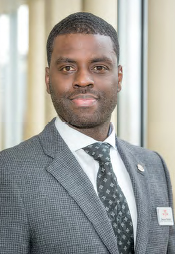 Another summer of planning has taken place at Wheel-Trans, as we work towards the launch of a number of initiatives. The continued expansion of Family of Services, further improvements to our Scheduling & Dispatch system and the new mobile app are all exciting new developments coming this fall.
This fall we will be introducing new Family of Services routes, which will result in more than double the amount of trip options available to our customers who use Family of Services.
We also broke ground on a number of construction sites for future Access Hubs, working with our partners to ensure greater access for Wheel-Trans customers and people with disabilities across the city.
We have also started hosting a new form of Travel Training: Station Orientation Days. These hour-long sessions are perfect for customers looking to learn about the accessible features in subway stations and how to travel safely on the subway, streetcar and bus. Traditional one-on-one Travel Training continues to be available for our customers who wish to travel independently or familiarize themselves with the conventional TTC and Family of Services.
Most importantly, we have seen the amount of time customers spend waiting to speak with a reservationist drop in half in recent months, thanks to the efforts of our call centre staff. We know this has been a singular issue for Wheel-Trans customers.
This cut in wait times has been a focus of our customer experience strategy, one we're hoping to further improve over time.
As always, please share your thoughts and feedback with us as we make these changes to Wheel-Trans service.
Dwayne Geddes
Head of Wheel-Trans
PRESTO payment coming to sedan taxis
Later this year, customers who travel by Wheel-Trans contracted sedan taxis, will be able to pay their fare using a PRESTO card. The sedan taxis will have equipment that will provide the same PRESTO payment options as other TTC vehicles, allowing customers to tap and pay from the balance of their PRESTO card or with a monthly pass which has been loaded on to their card. The two-hour transfer and other PRESTO features will also be available to customers.
PRESTO cards can be purchased for $6 at the following locations:
Fare Vending Machine at all TTC subway station entrances
All Shoppers Drug Mart locations
Online at prestocard.ca
The TTC Customer Service Centre at Davisville Station
Cards can be loaded with money or monthly passes at:
Fare Vending Machines or Self-Serve Reload Machines at all TTC subway station entrances
All Shoppers Drug Mart locations
prestocard.ca
The TTC Customer Service Centre at Davisville Station
All PRESTO cards are automatically set to deduct an adult fare. Customers can set their PRESTO card to deduct a youth, senior or post-secondary fare by taking their government issued identification to any Shoppers Drug Mart location or the TTC's Customer Service Centre at Davisville Station.
To learn more about PRESTO visit www.ttc.ca/PRESTO.
Changes coming to TTC Support Person card
The TTC is currently working with Metrolinx to develop plans for the introduction of a new Support Person card on PRESTO. The timing for when this new card will be available and how people will obtain one is still being determined. More information will be provided when it's available.
Stay tuned for more information about the new Support Person card.
Important Information
Wheel-Trans Registration Cards
Customers should make sure to always have their Wheel-Trans registration card on them while travelling. Operators may ask to see your registration card, as it will let them know who you are, helping to improve the pick-up process and avoid potential confusion.
If you have lost your registration card or if it needs updating due to a change of address, please contact Wheel-Trans Customer Service for a replacement at wtcs@ttc.ca.
Accessing the priority line in emergencies, only for customers who are deaf or hard of hearing
For customers who require emergency accommodation, including no-shows, please contact the TTY phone number at 416-397-5871. The TTY number is available for all deaf and hard of hearing customers, no matter their eligibility type.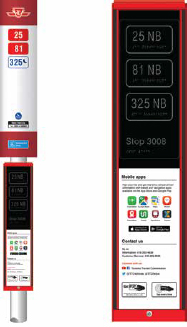 Tactile information coming to select stop poles across the city
New braille and tactile information signs will be placed at 20 bus stops across the TTC later this fall. The aim is to help visually impaired customers waiting at bus stops with multiple stop poles to find the exact stop where they should wait for their specific bus.
Request Stop Program
Did you know you can request to get off between bus stops if you're travelling alone between 9 p.m. and 5 a.m.? Customers interested in taking advantage of this program should inform the bus operator of their desired stop location ahead of time so the operator can be prepared to stop and ensure the environment is safe before doing so. Once the bus has stopped, customers should exit the vehicle through the front door.
RideLine for customers with conditional eligibility
When conditional trip-matching launches this fall, customers with conditional eligibility will have to book trips using the online self-booking website or by calling Wheel-Trans Reservations at 416-393-4222, as the RideLine is not able to book trips for customers with conditional eligibility. Wheel-Trans has sent a letter to conditionally eligible customers who use the RideLine notifying them of the situation. If you use the RideLine and have not received a letter, please contact
Wheel-Trans Customer Service at wtcs@ttc.ca.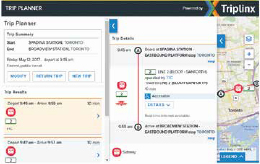 Front-seats: A first-come, first-serve basis
Due to customer demand and potential service delays, customers will no longer be able to place front-seat accommodation requests on their file without medical documentation.
Customers who have front-seat requests due to medical reasons will continue to be accommodated to the best of Wheel-Trans' ability.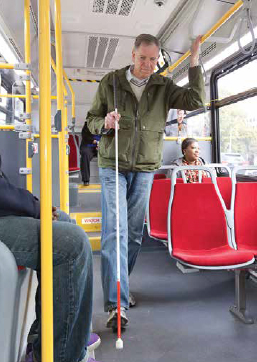 Please note – Family of Services boundaries
Family of Services follows Wheel-Trans boundaries, with vehicles only going 1 km into another region. This means customers using the subway will not be able to make Wheel-Trans connections at subway stops outside of the city limits. This only affects customers travelling to Highway 407 Subway Station and Vaughan Metropolitan Centre Subway Station, as these stations are north of the city limits.
2019 TTC Public Forum on Accessible Transit
Mark your calendars for the TTC's annual Public Forum on Accessible Transit! Meet with TTC management, staff and ACAT members and learn about the exciting changes happening across the TTC.
Date: Wednesday, September 25, 2019
Location: The Beanfield Centre
105 Princes' Blvd, Exhibition Place Ballroom A
Special Meeting of the TTC Board open to the public: 4:30 p.m. – 5:30 p.m. Marketplace: 6:00 – 7:00 p.m.
Forum: 7:00 – 9:00 p.m.
More information about this event will be available on the TTC's website in September.
New Wheel-Trans policies coming soon
Three new policies will be introduced this fall, covering the following topics:
Travelling with Infants & Children
DNLU: Do Not Leave Unattended
Cross-boundary Travel.
The new policies will be available on the TTC website under Wheel-Trans Policies. Check the website for further details!
Travel Training
Are you being offered a Family of Services trip but are unsure how to travel? The TTC's Travel Training program offers one-on-one training to teach you how to travel to your destination safely and independently on the bus, subway or streetcar.
Travel Training now also includes Station Orientation Days! Customers are invited to join in on small, one-hour long group training sessions at subway stations which have buses, subways and streetcars that service the station. Customers will learn how to safely travel around a subway station, receiving information about accessible features in the station and on the vehicles.
Sign up for Travel Training by emailing traveltraining@ttc.ca or call our Travel Trainer at 416-457-4151!
Read on for a recent customer's experience:
On June 17, 2019 I went through Travel Training with the TTC's Travel Trainer, Desrianne. She taught me how to use the public transportation system instead of using Wheel-Trans. My experience was a very positive one. The training built my self-confidence in knowing where to go, and how I was going to get there. Desrianne was patient and thorough, teaching me to safely utilize buses, streetcars and my biggest fear, the subway. This has been the first time in many years that I have toured the city like a tourist with confidence using public transportation. I thank the trainer from the bottom of my heart and the TTC to make it possible. I would recommend the training to others.
Fatima Ismail
Message from ACAT
Hello from ACAT!
We hope you have been enjoying your summer and traveling using accessible public transit. ACAT has been working with TTC staff on improvements to Wheel-Trans services and the TTC.
ACAT has four subcommittees working on the following:
Wheel-Trans Operations Subcommittee (WTOS) members are assisting staff with ongoing improvements such as the development of the new Wheel-Trans app which is due to go live this fall. WTOS has also worked on the re-registration process and provided feedback regarding the reservation wait times, which have improved.
Design Review Subcommittee (DRS) members continue to advise on plans for accessibility modifications to numerous stations including Greenwood, Rosedale and King which are scheduled to become accessible by 2023. DRS also spearheaded recommendations for the capital project that is now under way to fix gap issues at subway platforms. DRS is currently working with Metrolinx to ensure ACAT recommendations for better accessibility will be included in Metrolinx projects.
Communications Subcommittee members continued to provide advice on the importance of the TTC'™s Travel Training program for all Wheel-Trans customers who are interested in learning more about travelling using the conventional TTC on their own or with Family of Services.
Service Planning Subcommittee (SPS) members continue to work on the Wheel-Trans 10-Year Strategy Access Hubs project, as well as adding more Family of Services routes. SPS is also involved in the 5-Year Service Plan and 10-Year Outlook Study to set a vision and identify strategies to enhance mobility in the City of Toronto over the next five years. The study is set to be completed in December, 2019 with a report to the TTC Board.
Achieving a fully accessible transit system is an ongoing commitment that requires the dedication of all fifteen ACAT members and TTC and Wheel-Trans staff.
You are always welcome to reach out to ACAT to share your experiences and to learn more about what we do by email: ACAT@ttc.ca or by attending our monthly public meetings, held on the last Thursday of every month at 1900 Yonge 1:00 pm to 3:30 pm.
Sincerely,
Mazin Aribi - Chair
New Family of Services Routes
Family of Services continues to grow! The following routes will be added to the Family of Services network this fall:
11 Bayview
20 Cliffside
24 Victoria Park
924 Victoria Park Express
42 Cummer
44 Kipling South
52 Lawrence West
952 Lawrence West Express
57 Midland
60 Steeles West
960 Steeles West Express
70 O'Connor
72 Pape
86 Scarborough
986 Scarborough Express
92 Woodbine South
106 Sentinel
111 East Mall
116 Morningside
900 Airport Express
995 York Mills Express
985 Sheppard E Express
984 Sheppard W Express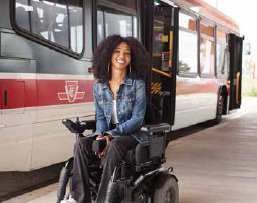 Customers will have access to 450 transfer locations across the bus and streetcar network, as well as 45 accessible subway stations.
Customers travelling along Queen Street will now be able to take the streetcar, as the 501 Queen Streetcar route will have low-floor accessible streetcars full-time beginning in September, 2019!
Access Hubs' Expansion
Eleven new Access Hub sites are scheduled for construction by the end of 2019. These shelters will help Wheel-Trans customers using Family of Services by providing large, accessible and heated shelters for customers to wait for connecting trips across the city. Excitement is building around these developments, as well as the recent opening of a new Access Hub in June at Humber College's north campus.
Conditional Trip-matching Update
Conditional trip-matching will be implemented this fall. This will mean customers with conditional eligibility will only receive one trip when they book trips; the type of trip a customer receives will be based on a customer's conditions. If a condition is present at the time of travel, for example rush hour or winter service, the customer could receive a door-to-door trip. If a customer's conditions are not present, they will receive a Family of Services trip.
Customers with conditional eligibility will no longer be able to choose door-to-door trips when booking their trips, whether they book online using the self-booking website or by calling a reservationist.
Customers with unconditional eligibility will always receive a door-to-door Wheel-Trans trip, but unconditional customers can also choose to travel using Family of Services.
Re-registration Update
Re-registration of customers will begin this winter. The process of re-registration is expected to take several years to complete, as every customer who applied for Wheel-Trans service before January 1, 2017, will be re-registered. Customers who need to re-register will be notified by mail and sent a new Wheel-Trans application. A customer's eligibility will not change until the application has been reviewed by Wheel-Trans and an updated eligibility decision has been made.
Customers who wish to re-register earlier can request a new application through Wheel-Trans Customer Service at wtcs@ttc.ca or by downloading the form available on the Wheel-Trans web page under 'How to apply'.
Wheel-Trans Scheduling & Dispatch
Further upgrades to the Wheel-Trans Scheduling & Dispatch system will be implemented this fall. This will result in improvements to the Wheel-Trans self-booking website and the release of a new mobile app! The mobile app will be able to book, modify and cancel rides just like the self-booking website.
Please note…
In order to receive emails from Wheel-Trans about news and important information, please make sure your email address is on file with Wheel-Trans Customer Service.