We have set goals to attain a zero emissions bus fleet that will continue to deliver safe and reliable service.
While the TTC continues to modernize our service, introducing additional green initiatives are essential in the process. We have set goals to attain a zero emissions bus fleet that will continue to deliver safe and reliable service.
Hybrid buses and eBuses
The TTC's bus fleet is comprised of 3 different eco-friendly technologies that include clean diesel, hybrid electric and battery electric. The TTC will be trialing a variety of bus models that operate on green technologies to ensure we move forward with the best vehicle for our customers. This is part of our commitment to be 50% zero emissions by 2028-2032 and 100% zero emissions by 2040. This is just one way we are modernizing our service, innovating for the long term and planning for climate change. We will continue to deliver safe, reliable service to our customers with the new, more environmentally friendly fleet.
Fun fact!
One bus at full capacity takes the place of 70 single occupancy cars. The clean-diesel bus produces less than 1/10 the emissions per passenger than a personal vehicle.
Electric Bus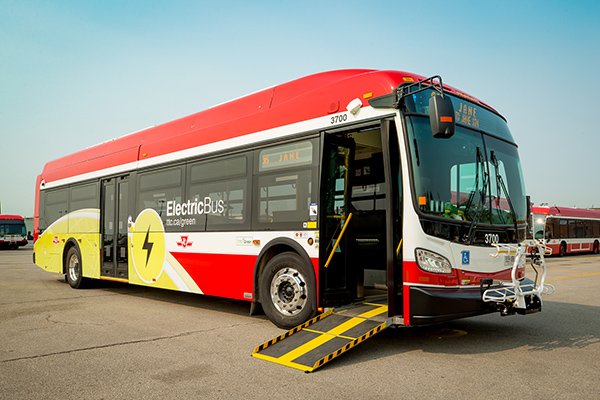 The eBuses operate on truly green technology with the potential for zero emission. Zero emission buses have no tailpipe emissions, and in Ontario, generation of electricity for overnight charging is 100% nuclear and completely free of GHG emissions. The TTC now has one of the largest mini-fleets of electric buses in North America and this green initiative is part of the TTC's commitment to be 50% zero emissions by 2028-2032 and 100% zero emissions by 2040.
While the eBuses should be capable of 200km or more on one charge, they are currently being deployed on routes that are 75km or less. With time and confidence, they will be deployed on longer and longer routes. The TTC has purchased 60 all-electric buses from three manufacturers: 25 from Proterra Inc., 25 from New Flyer Industries Inc. and 10 from BYD Canada Co. Ltd. On Monday, June 3, 2019 the first New Flyer eBus went into service on the 35 Jane route. On Saturday, October 26, 2019 the first Proterra eBus went into service the 6 Bay route. On Tuesday, September 8, 2020 the BYD Canada Co. LTD. eBus went into service the 116 Morningside route.
Fun fact!
During long-term hydro power outages, or in the event of an emergency, there is potential for these buses to serve as mobile power plants. A bus with a 440,000-watt battery on board can be plugged into a building, such as an emergency response center or hospital, to provide electricity.
Hybrid Bus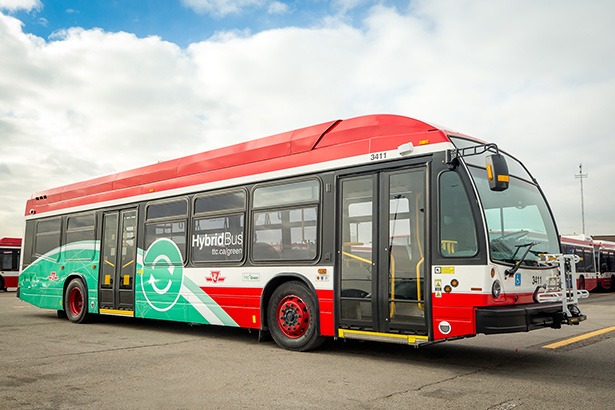 The hybrid buses incorporate series technology and run off power generated on-board. As opposed to an electric bus that is plugged in to charge, our hybrid buses use on-board generators that are powered by diesel engines. Though these vehicles are still using fuel to produce energy, they use a lot less than the average vehicle. Hybrid buses also incorporate the recovery of braking energy, meaning that energy produced when descending a hill or during braking is fed back to the energy storage system to reuse for propulsion, resulting in approximately 25% fuel reduction and in turn, reduced tailpipe emissions. The TTC plans to have 55 hybrid buses delivered by the end of 2018 and 200 more hybrid buses delivered by the end of 2019.
Green and Cool Roofs

Downsview Park Station features sweeping lush vegetated green roofs at both the east and west entrance buildings.
Finch West Station's design includes a cool roof over the main entrance and a green roof over the elevated substation box.
York University and Highway 407 Stations feature metal cool roofs that have a high solar reflectance and absorb little heat.
Pioneer Village Station includes cool roofs over the entrance buildings and green roofs over the TTC bus terminal and substation.
Vaughan Metropolitan Centre station features a cool roof on the main entrance and a green roof on the south side of Highway 7 on the electrical substation.
Leslie Barns' one-of-a-kind rooftop is low maintenance and can sustain sedums, grasses and other low herbaceous vegetation, while also providing a habitat for insects and birds. The large storm management pond collects water from the drainage system in the parking lot and is then used to water all of the plants on the green roof.
The McNicoll Bus Garage features several green initiatives such as rooftop solar panels, a green roof and recycling system for bus wash water.
The TTC's first green roof is located at Eglinton West Station with an 835-square-metre garden.
Victoria Park Station was one of the first TTC stations to participate in the green roof pilot project. The design enhances the beauty of the station, while also diverting 300,000 gallons of storm water from the sewer system annually.