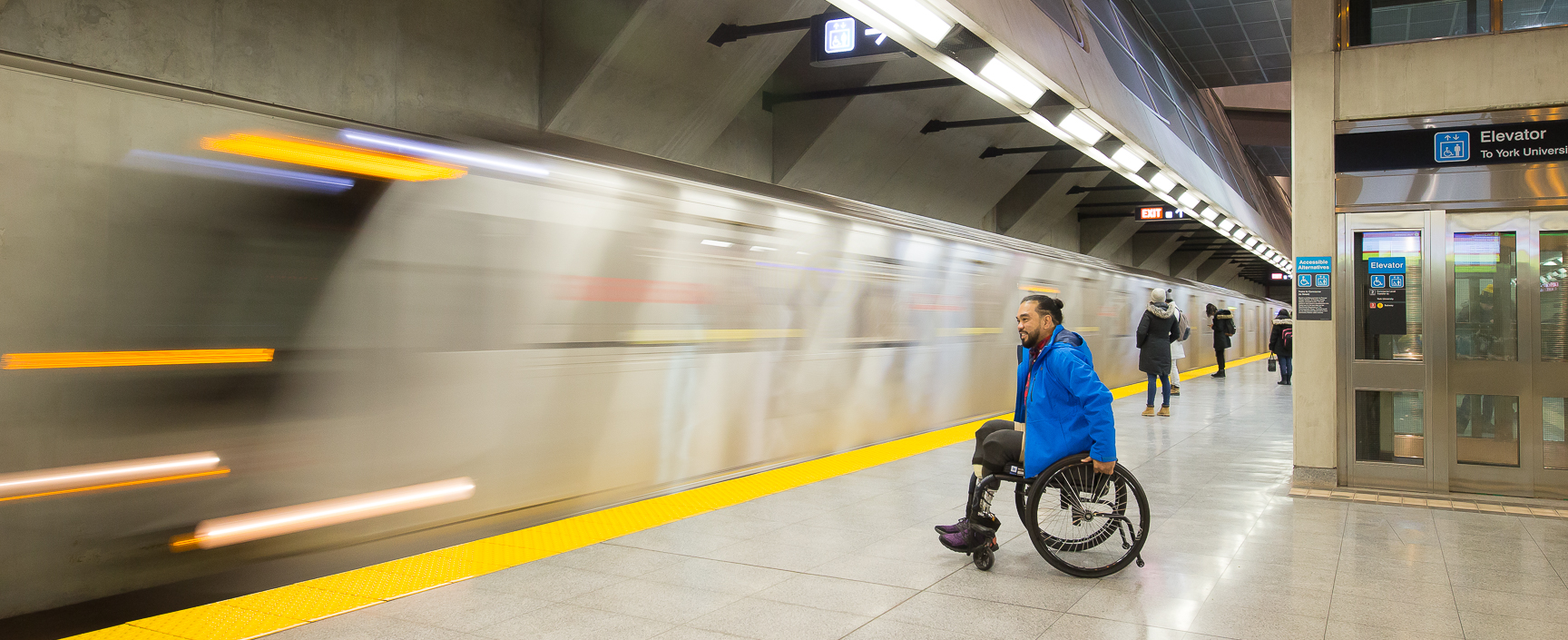 The Advisory Committee on Accessible Transit 
The Advisory Committee on Accessible Transit (ACAT) provides a mechanism for ongoing public participation in decisions affecting accessible transit in the City of Toronto. The Committee is comprised of volunteer members and reports to the Board of the Toronto Transit Commission.
Public Forum on Accessible Transit
The Annual Public Forum on Accessible Transit will be held on October 23, 2023. Customers can participate in person, or online.
Time: Marketplace at 6:00 – 7:00 p.m. Forum at 7:00 – 9:00 p.m.
Location: Toronto Reference Library (789 Yonge Street), Bram and Bluma Appel Salon
The forum provides TTC and Wheel-Trans staff with an opportunity to engage with our Wheel-Trans customers, stakeholders, advocacy groups, and the broader community, and hear feedback on important initiatives the TTC is working on to enhance accessibility across the system.
Toward transit without barriers
TTC's Advisory Committee on Accessible Transit - ACAT provides advice and guidance to the TTC Board and TTC staff on improvements to conventional, Wheel-Trans and Community Bus services to better meet the needs and concerns of all riders. The committee reports directly to the TTC Board and provides feedback on:
Accessibility features of new buses, streetcars, subway trains and stations
Wheel-Trans eligibility criteria, the application process, trip booking and Family of Services
Technology improvements, such as Trip Planner and ttc.ca
Priority seating: blue seat fabric, flip down seats, 'please offer me a seat' program
Training of TTC Operators, Collectors and Customer Service Agents (CSAs) regarding accessible services at the TTC.
Check out past ACAT agendas and minutes.
ACAT Meetings
ACAT meetings are being held virtually for the foreseeable future until Toronto Public Health permits in-person gatherings. Please check the schedule below for meeting dates and times.
To make a deputation at an ACAT meeting, you must make your request in writing ten (10) days prior to the upcoming ACAT meeting. Deputants must provide a brief, written overview of the topic(s) to be addressed. Please forward your request and brief to acat@ttc.ca
Anita Dressler

Gwyneth Dalzell

Erica Tanny

Mei Hung

Rob Lackie

Frank Lockhart

Maria Marin

Lavarnan Mehavarnan

Bobbi Moore

Wangari Muriuki

Craig Nicol

Betty Rivington-Law

Lauri Sue Robertson

Valdo Tammark

Howard Wax
Tammy Adams

Jason Osborne

Nicolas Paterson
Join ACAT
ACAT is made up of 15 members on three-year terms. Each year, the Board appoints five new members to the committee who volunteer about seven hours per week during regular business hours.

Applications are no longer being accepted for 2024 membership. Please visit the TTC website in Spring 2024 for details on applying for 2025 membership.