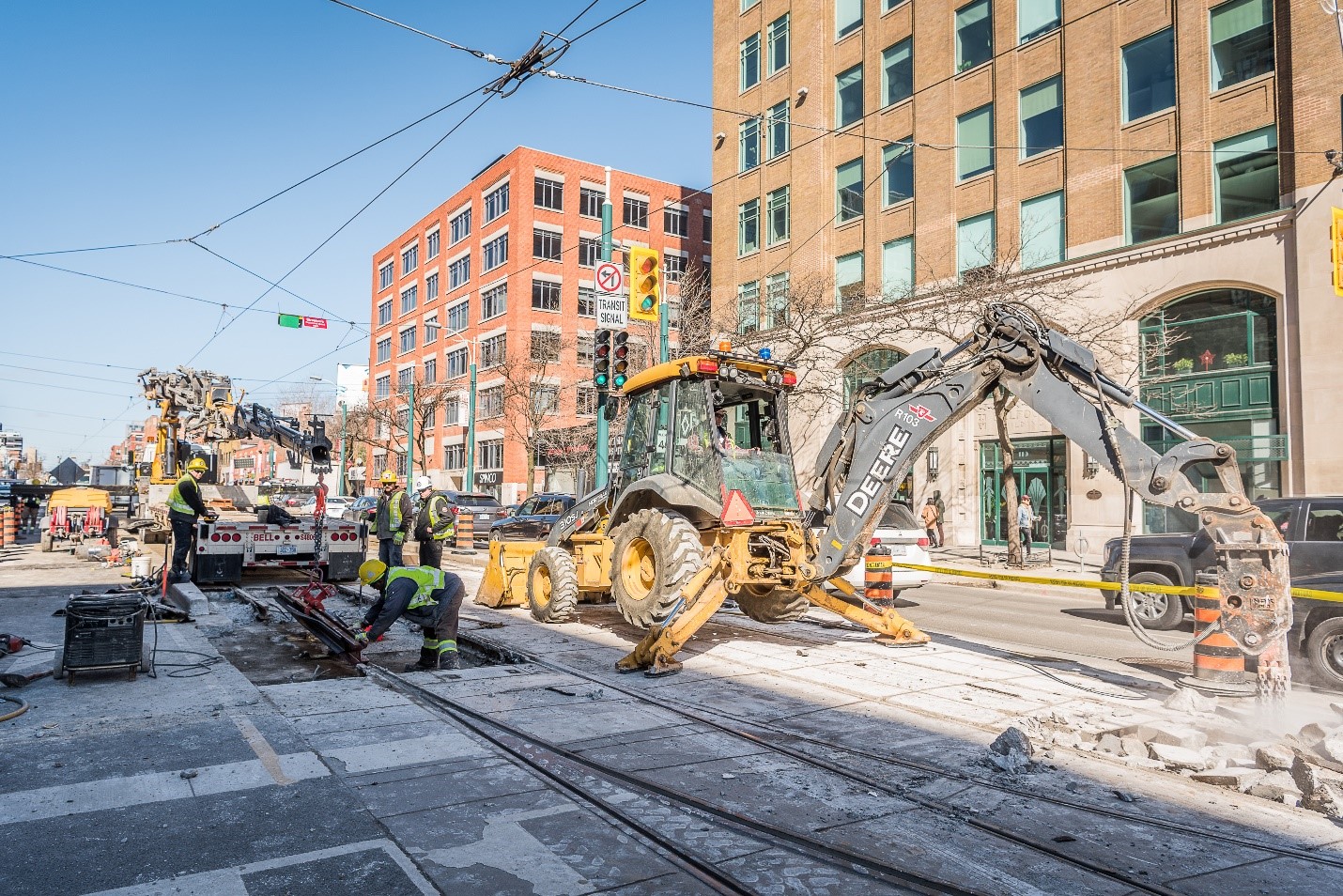 Track Renewal
Adelaide Street from York Street to Victoria Street
What we are doing and why
In December 2022, the City of Toronto and TTC finished installing new streetcar tracks on Adelaide Street (York Street to Charlotte Street). The new tracks will allow the TTC to operate reliable route diversions in the downtown core to minimize the impact on customers and maintain service standards.
Queen Street closure
On May 1, 2023, Metrolinx closed Queen Street (Bay Street to Yonge Street and Yonge Street to Victoria Street) for 4.5 years to begin construction of the new Ontario Line subway. Due to the road closure, the 501 Queen Streetcar is being diverted from Queen Street via McCaul Street to Dundas Street and towards Broadview Avenue where it returns to its regular route. This is occurring in both directions. In addition, a new 501B replacement bus branch was added to maintain service for customers wishing to travel through the downtown core on Queen Street. Learn more about the diversions here.
View a PDF version of the map
The current 501 Queen streetcar diversion will be in place until the City and TTC finish building new streetcar tracks on Adelaide Street (York Street to Victoria Street). This section of tracks will allow streetcars to effectively divert eastbound on Adelaide Street. Streetcars will divert west on Richmond Street where tracks are currently in place. This diversion will be in effect for the remainder of Metrolinx's Queen Street closure.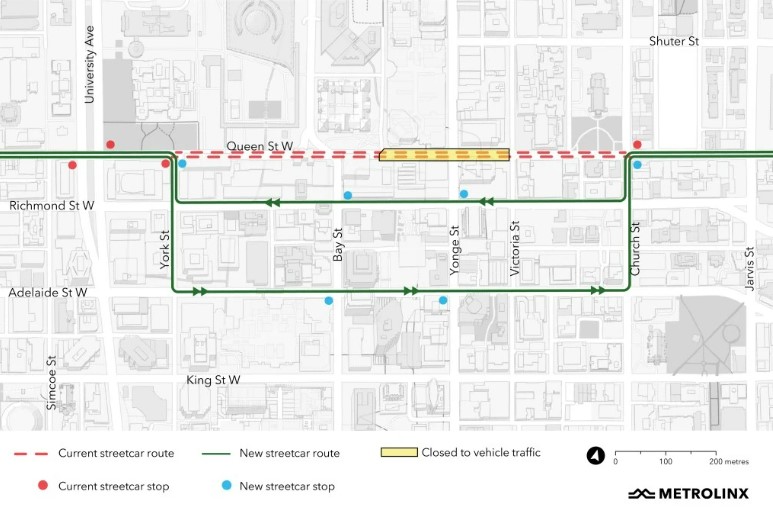 Learn more about this diversion here.
In June 2023, Metrolinx will begin the installation of new tracks on York Street (Queen Street to Adelaide Street) to support this diversion.
Work hours and timeline
Work crews will begin underground utility relocation work in mid-late May 2023, ahead of the planned streetcar track installation work (York Street to Victoria Street).

Track installation work is expected to start in September 2023 and be completed by December 2023. Crews will return in spring 2024 to install overhead wiring. Completion of this work is expected in the summer of 2024.

Work will take place

24 hours 7 days a week

. Excavation activities and heavy breaking will be carried out at various times throughout the day. The majority of excavation work will take place between 7 a.m. and 10 p.m. Around-the-clock work during rail installation by TTC is required to preserve the integrity and quality of new rail and concrete. Overnight rail work by TTC may consist of moving new rail into position, rail installation, and rail welding/grinding.
Traffic restrictions (during track installation work on Adelaide Street)
A minimum of one shared single travel lane will be maintained at all times.

The intersection of Adelaide Street and York Street will close for up to 4 weeks to allow crews to install new tracks. Additional details will be provided in an additional notice closer to the date of the closure.

The exact location of where TTC crews will weld and store new rails for installation will be communicated once confirmed.
Contact us
If you are interested in receiving updates about this project, please email your contact information to the project's Community Liaison Officer.

Please be sure to include your name, address (including city and postal code), phone number and email address. Also, please let us know how you prefer to be contacted – by email, regular mail or both.


Michael Vieira
Senior Community Liaison
michael.vieira@ttc.ca