Transit Operators are the backbone of the TTC. Read about our employees' journeys and successes.
Keshia Anglin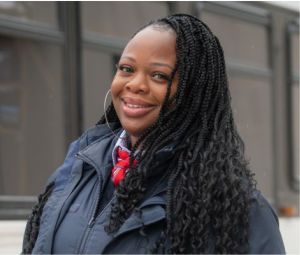 Keshia Anglin, a Bus Operator, is an advocate for inclusivity. Last year, she had the opportunity to participate in a display honouring Black History Month at her division and reflects fondly on seeing Operators from other divisions come and appreciate the display. Keshia was also proud to drive one of the buses wrapped with images celebrating Canadian Black excellence. Keshia recalls this as a "feel good moment" for 2021.
In her time at the TTC, Keshia has appreciated the inclusive nature of her workplace. She is proud to see the TTC's focus on diversity, inclusion and supporting Black employees.
"It makes us feel like we are included and accepted, and that we're not just here to be here - like we're not just a number or a quota," she said.
When it comes to inclusion, Keshia highlights that the most important feeling as an employee is not only to feel heard, but to know that the ideas brought forward are put into action.
This year Keshia, along with a very supportive group, have completed yet another elaborate display for Black History Month and is proud of its success. She hopes that all employees get the opportunity to stop by and see it for themselves.
"The social committee really lets me spread my wings every year, and I'm so grateful to have such a supportive team."
Ashley Bullen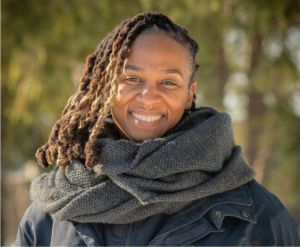 Ashley Bullen is a Bus Operator and celebrated her five-year anniversary at the Commission in early January. One of her favourite parts about her role is that no two days are ever the same, and every day feels like a blank slate and opportunity to develop new experiences.

When reflecting on inclusivity in the workplace, Ashley recalls taking part in filming a promotional video for the TTC's Family of Services program. She was impressed to see the cast was made up of a wide range of nationalities, ethnicities and age groups.

"It was such a great representation of how diverse and inclusive the TTC has become," said Ashley. "Recognizing Black History Month at the TTC is a way to further cultivate and foster opportunities to connect the company and all its employees with the celebrations, history and shared experiences of the Black community."
Sidney Baker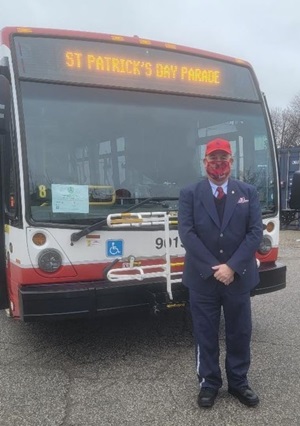 Every March for the past five years, Bus Operator Sidney Baker has taken a day away from his regular route, the 7 Bathurst. With a marquee lit up for St. Patrick's Day, he drives a chartered bus with veterans and members of the Royal Canadian Legion marching in Toronto's annual St. Patrick's Day Parade.

The bus provides veterans and Legion members with a place to take a break if they need one. "I'm there to support everybody," Sidney explained.

As the Sergeant at Arms for the Royal Canadian Legion Branch 527, Sidney is responsible for organizing parades and ceremonial guards on occasions like these, for his own branch and sometimes for others. He's been a volunteer with the Legion for 12 years, and a civilian instructor with the Royal Canadian Air Cadets for 25 years.

His volunteer work extends beyond parades. Every November, he helps with the Legion's poppy campaign and the Remembrance Day ceremony at his branch. Through the Air Cadets, he started working for the CNE Air Show, and now continues to help out as a volunteer with medical work and other tasks as needed.

But for the St. Patrick's Day Parade, Sidney's TTC and volunteer work converge – an amazing example of how TTC employees serve their communities, both at work and on their own time.
Natasha LeCointe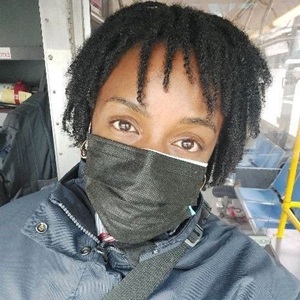 Natasha LeCointe is friendly, outgoing and adventurous. When she had the opportunity to join the TTC, she thought it would be a great chance for her to meet new people and see different parts of Toronto.

She started in 2015 as a Streetcar Operator and became a Bus Operator in 2019. She has been a Divisional Trainer in both Streetcar and Bus, and has found her time at the TTC to be enjoyable and fulfilling.

She enjoys what she does because she has a great team and appreciates moving the people of Toronto, whether they be students, doctors, teachers or other TTC employees. She also enjoys talking to them, hearing their stories and learning a little bit about their lives.

One of Natasha's stand-out moments was being part of TTC's Black History Month celebrations. Natasha wrote a piece about Women in Race that highlights the importance of Black women standing out as influential members of society. She hopes to encourage all Black women, regardless of age, to pursue their dreams and visualize themselves in positions of power.

"Being part of that moment here at the TTC has been unforgettable."

Outside of work, Natasha loves bike riding, testing new recipes, reading and being a mom.
Gurpreet Bhullar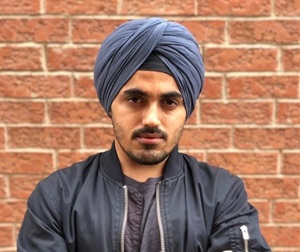 Asian Heritage Month is an exciting time for Gurpreet Bhullar. It's a chance for him to further educate himself about Asian culture as a whole, as well as others on his culture and its values.

In April, Gurpreet was part of a group at Mount Dennis Division that hosted a Vaisakhi celebration. He came in on his own time to assist with serving lunch. He enjoys participating in cultural events and has found that people of Asian-descent often unite during these important times.

"Witnessing my coworkers of various backgrounds participate in Vaisakhi was phenomenal. When we participate in each other's cultural events, the working atmosphere reaches a whole new level," he said.

Gurpreet's culture has had a big influence on who he is today. He grew up learning to respect and look out for others as a core value of his Indian heritage is to recognize the human race as one. He also values trust and responsibility.

Gurpreet takes pride in his role as an Operator and continues to share his knowledge with his team. He's also an active member of Mount Dennis Division's Joint Health and Safety Committee, and has been dedicated to promoting safety amongst his peers.
Anthony Shaw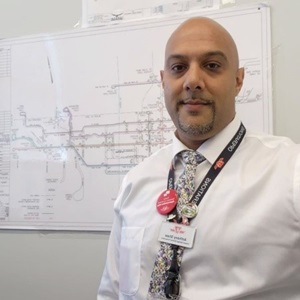 When Anthony Shaw was looking for a career change, he wanted to find a workplace that would challenge him, allow him to grow and complement his social personality. With this in mind, he thought the TTC would be the best place for him.

In 2014, he joined the Commission as an Operator. He became a Streetcar Supervisor in 2017 and then a Divisional Assistant Manager at Leslie Barns in 2019.

Anthony has been part of many projects in Streetcar Transportation, but one that's important to him is updating the welcome package, which provides new employees with all the necessary information they will need to be successful.

"This package was an invaluable tool to me when I started, and I'm glad to be given the opportunity to update it and provide this important information to our new operators," he said.

Anthony has enjoyed his experiences at the TTC so far and looks forward to continuing to engage with and build relationships with operators, other departments and stakeholders.
Michael Ning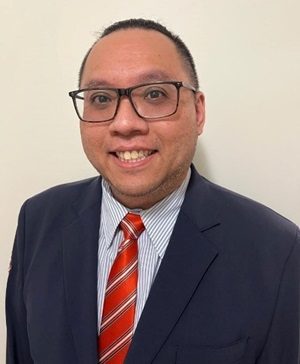 Michael Ning has many hobbies and interests. He likes to cook, try new foods, play sports and collect Lego sets. One interest he's had since childhood is his admiration for transportation vehicles.

That interest is part of why Michael joined the TTC in 2018. He started as a Subway Operator, and was also a Streetcar Operator for a while before returning to subway.

One of Michael's stand-out moments in his career was when he helped a customer who had been injured on an escalator. Due to a language barrier, the customer had some difficulty communicating with TTC staff and first responders. Since Michael knew the language, he served as an interpreter. A few weeks later, his manager nominated him to do an interview on television for Transit Operator Appreciation Day.

Michael enjoys working at the TTC because he gets along with his coworkers and likes seeing the familiar faces of customers. The motto that Michael lives by is "do what you love and love what you do."
Sydney Somerville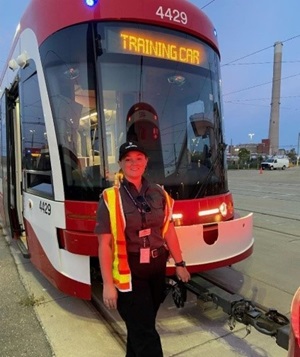 In 2011, Sydney Somerville joined the TTC in a summer student position as a Subway Janitor. She enjoyed her time at the TTC and came back the next summer to be a summer student as a Customer Service Ambassador. In 2014, she was hired on permanently as a Bus Operator at Queensway Division and later became a Streetcar Operator.

Currently, Sydney is an Instructor in the Operations Training Centre (OTC). As an Instructor for Bus and Service Maintenance, Sydney teaches maintenance staff how to operate streetcars and buses. She likes showing employees how things at the TTC work and watching them grow in their roles.

"It's amazing to see people progress from the first day of training to the last. The fear they had on day one in the seat disappears and there's such confidence on the last day."

Sydney has a Bachelor's degree in Religion and Classical Civilization and three post graduate certificates in Occupational Health and Safety, HR Management Essentials and Adult Learning and Development, all from the University of Toronto.
Teresa Gale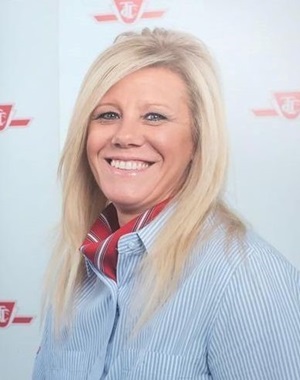 In 2012, Teresa Gale joined the TTC as a Streetcar Operator. In 2015 she moved over to Wheel-Trans and has been a Wheel-Trans Operator ever since.

Teresa loves interacting with people. She takes pride in making sure Toronto's Wheel-Trans customers are transported across the city safely and efficiently. Over the years, she's built relationships with her customers. She likes hearing their stories and getting to know them more and more each day.

In 2018, Teresa won the Safety Award for helping a Wheel-Trans customer. When she arrived at her stop to pick the customer up, he started choking on some food he was eating. She jumped into action and started performing the Heimlich maneuver. After some effort, the piece came out.

She's passionate about what she does. "I drive with pride. I drive knowing I play an important part in getting our customers to their destinations across the city. I really do love my job," she said.

Outside of work, Teresa enjoys cooking, baking, staying active and spending time with her family and friends.