Queen Street East from Hambly Avenue to Hammersmith Avenue- Essential Rail Replacement
Effective
April 10, 2023
to
April 14, 2023
What we are doing and why
Starting April 10, TTC track crews will replace streetcar rail located on Queen Street East from Hambly Avenue to Hammersmith Avenue. The majority of work activities involve concrete excavation/removal, replacement of worn rail and placement of new concrete. This work is required to return the area to a state of good repair. Pending weather, work is scheduled to take approximately 5 days complete.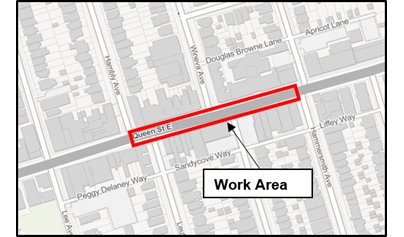 Traffic and parking restrictions
Within the work zone, traffic will be reduced to a

single lane

, both eastbound and westbound on Queen Street East.

Pay and display (metered) street parking will be restricted.

These restrictions will be cleared once the newly placed concrete has been able to adequately cure for road traffic.
Work hours and timeline
Rail work of this nature is required around-the-clock to ensure qua

For further information

Michael Vieira, Senior Community Liaison, 437-551-4609, Michael.Vieira@ttc.ca

lity installation of new rail/concrete.

A track crew will set up the work zone at approximately 5 a.m. on the first day of the work (April 10).
At 7 a.m. crews will begin cutting into the concrete and at 8 a.m., concrete removal will begin in order to expose the worn rail or concrete to be replaced.
Concrete breaking/removal work will typically end at 11 p.m.

Expected overnight activities include rail welding and placing new concrete/asphalt.

Concrete/asphalt is placed in the track area and set to cure. The new concrete/asphalt requires curing time before the work zone is removed for the resumption of full road/parking use.
TTC service - effective 5 a.m. on April 10 to 11 p.m. on April 14
During this work, TTC service will be impacted as follows:
501 Queen replacement buses

will operate between Lower Coxwell Avenue and Neville Park Loop.

Westbound 501 Queen replacements buses

will operate via

Neville Loop, west Queen Street East, south Lower Coxwell Avenue

Eastbound 501 Queen replacement buses

will operate via

from Lower Coxwell Avenue, east Eastern Avenue, east Queen Street East to Neville Loop

Customers should transfer between streetcars and replacement buses on Queen Street East, at Eastern Avenue for eastbound 501 Queen replacement buses, and at Kingston Road for westbound 501 Queen streetcars.


For further information
Michael Vieira, Senior Community Liaison, 437-551-4609, Michael.Vieira@ttc.ca